Recent Work

Another Black Man Killed
Teaching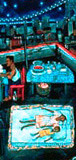 Student Work

Curriculum Guide
An on-line curriculum guide for teaching high school art that features a 5 day unit with detailed lesson plans. Also includes article summaries relating to content area literacy, and a resource guide for a social action approach to teaching.
Echoes of Violence, Voices of Change
Teachers from multiple content areas collaborate on a unit with an historic overview of WW 1 to give students back their voices. See ART section for Kyra's unit and lesson plans. Web site and all materials in the ART unit written, designed, and produced by Kyra Rice.