Transgender Law Center's legal director Ilona Turner, who received the first Mary C. Dunlap Fellowship awarded at UC Berkeley Law School, recently spoke to the press when the Center obtained an historic federal ruling that transgender discrimination in the workplace is illegal.

2010 - 2011: "Claiming the Title: Gay Olympics on Trial"
In their award-winning documentary, Jonathan Joiner and Robert Martin tell how the Gay Olympics case, which Mary litigated all the way to the U.S. Supreme Court, pushed forward the fight for LGBTQ visiblity and equality in the 1980's. The film was broadcast throughout 2011 on PBS affiliates across the country.

November-December 2007
"Mary Would Do It" — oiled birds & Joseph Cornell.

April 2007
Mary is one of the activists profiled in "Feminists Who Changed America 1963-1975" (Ed. Barbara Love, Univ. of Illinois Press 2007).
The Mary Dunlap Fellowship, Boalt Hall School of Law, is awarded for the summer of 2007.


November 2006
Mary's mementos are included in the "Laughing Bones/Weeping Hearts" Day of the Dead exhibit at the Oakland Museum, California.


April 2006
Two law students are funded by the Mary Dunlap Fellowship, Boalt Hall School of Law.


February 23, 2006
Second Mary C. Dunlap Memorial Lecture on Sex, Gender & Social Justice


April 2005
Founding awards of the Mary Dunlap Fellowship, Boalt Hall School of Law

February 24, 2005
First Mary C. Dunlap Memorial Lecture on Sex, Gender & Social Justice


January 17, 2005
Two-year anniversary
Commemorative issue of Berkeley Women's Law Journal
Photo essay "We Are" by Lisa Kanemoto

January 17, 2004
One-year anniversary

June 27, 2003
Lawrence v. Texas: Mary is surely beaming now!

February 18, 2003
Mary's memorial & Sunday's peace march


---
February 3, 2003
From Maureen...
Many thanks to all the people who've been sending messages of support, donations, stories about Mary, and offers of such practical help during a terribly difficult time...and of course also to the friends who've continued to cook, help with the dogs, help with logistics, and patiently talk in the middle of the night with me, who really just are my response to the question, "How you holding up?"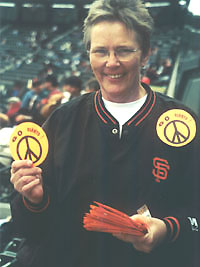 Here are the details on Mary's upcoming memorial:
CELEBRATION OF MARY C. DUNLAP'S
WORK & LIFE

Saturday, February 15 at 2 - 4 pm
Herbst Theater
SF War Memorial and Performing Arts Center
401 Van Ness Ave, San Francisco


Reception following in the Green Room, 2nd floor
Anyone who'd like to contribute to the costs of the memorial can send a check to the "Mary Dunlap Memorial Fund" at [private address]. Many thanks!

You may also want to read this week's beautiful celebration of Mary by Deb Price, whose syndicated column on gay people's lives appears in newspapers all around the country.
---
January 29
The time and place of Mary's public memorial will be announced here shortly. Meanwhile, here is a copy of an obituary published last week by San Francisco's local legal paper, the Daily Journal, about Mary.
January 21
From Maureen...
The team who cared for Mary is slowing coming back to full strength, and people have been asking us how they can help.
Many of you have already been sending in emails with stories and anecdotes about Mary, and what she meant to you. These are really helping us in planning her memorial(s). You are welcome to contribute these through this website, or you can email me directly at mmason@maureenmason.net

Notes and emails are always welcome, but in lieu of flowers Mary asked that donations be sent to the following organizations:
We will be posting information here about memorial(s) for Mary as it becomes available. Thank you again for all your support.
---
[recent visits]