Some forms continue to speak to me, and certain finishes still offer lots of exploration: that's what keeps things exciting. Addtionally, many of the established forms offer inspiration for my new work with metals, mingling the old work with the new. And of course, there are a number of items that have continued to hold the public's interest, which I'm more than happy to continue.
Many of the larger vessel forms come in up to five different sizes, expanding the price range. Since each piece is one of a kind, each is individually priced. Generally speaking though, you can expect the following price groups: $800, $600, $400, $250, $145. Another aspect effecting price is whether or not the piece has an original fabricated metal adornment.
If you'd like to order any of these styles, please contact me by calling 510/967-7592 or send an email. I'd be happy to send you a digital image of an item I have on hand that might interest you. California sales tax will be added to all items shipped within California.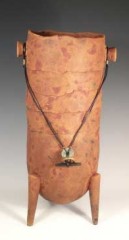 Tall Iron Age Basket
Pinchpot and Coil formed
Electric Fired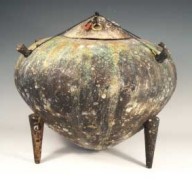 Large Unearthed Amphora
Pinchpot formed, Raku Fired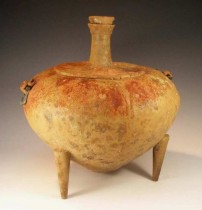 Large Antique Decanter
Pinchpot and Coil Formed
Raku Fired. Brass Handle Treatment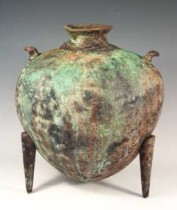 Large Story Jar
Pinchpot and Coil Formed
Raku Fired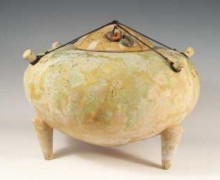 Large Antique Amphora
Pinchpot formed, Raku Fired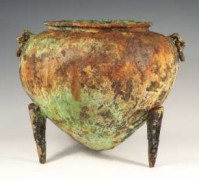 Unearthed Cauldron
Pinchpot formed, Raku Fired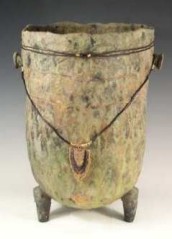 Large Basket
Pinchpot and Coil formed
Electric Fired, Brass Pendant