What hath night to do with sleep?
(John Milton)
---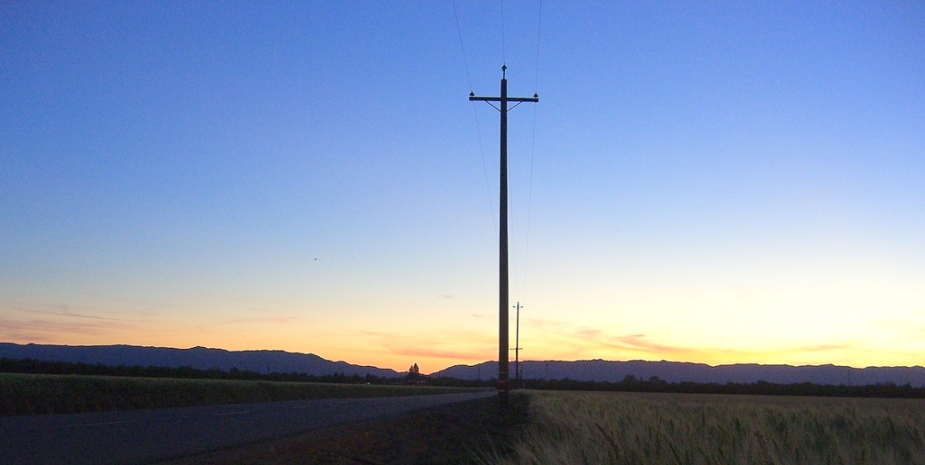 Westward toward the Vaca Mountains
(Photo by Dan Brekke, 5-5-07)

---
NOTE: All photos used with permission and as attributed, by Dan Brekke, rob hawks, Mike Biswell and Dr. William Bowen.

---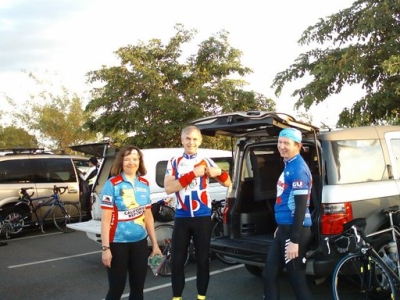 For the past three years, Paris-Brest-Paris (PBP) has been central to my cycling universe and the goal toward which I am working. The French organizers of that once-every-four-year event no longer require a multi-year qualification process for Americans to complete, and yet in this PBP year the usual one season brevet event schedule has been tweaked more than a bit to enhance the challenge. Back this year was a Davis Bike Club (DBC) 600 km brevet course used as a qualifier the last year PBP was held. The 600 km brevet is the final piece of a four part puzzle riders solve to qualify for PBP, but this time there was an added twist. This particular 600km course is difficult to begin with, and my friend Dan Brekke rightly says that there is no easy 600km brevet. The start time for this DBC brevet mimicked the "90 Hour" evening start time of PBP by sending the riders off near sunset at 8pm, which increased the level of difficulty by perhaps an order of magnitude. All the riders would ride through the first full night, and most of the riders would ride through part or all of a second full night before reaching the finish. When a 600km brevet starts at sunrise, the normal ratio of hours riding in daylight to hours riding in darkness is usually 2:1 for a rider like me. Instead, with the start time at sunset it was 1:2. So on Friday, May 4th, 88 riders donned reflective gear, checked tail lights, headlights and helmet lights and at the command by Jim Sharp, the RBA, we rolled out of Davis, briefly southward at first and then settling on a general west-northwest path.

Davis, CA is located near the western edge of California's Central Valley and the early miles on any course leaving Davis are very flat. The winds on this evening were generally from the west and were strong enough to be noticed but tucked 'safely' in the main pack the headwinds had less affect on me. What did affect me to a degree though was the pace of the pack. I was surprised to see how long the majority of the riders kept with the lead pack. Or maybe more accurately put I was surprised to find myself still with the faster riders after 20 miles when we began to encounter the rollers that announce the approach of the Vaca Mountains. On the flats, when gaps would form and I would need to work to bridge up to the group ahead I would begin to suck air a little but this would ease off immediately after tucking into the draft of the group I just caught. What I couldn't do comfortably at this point was drink and eat while riding in a pack in the dark. Because of this I was racking up a bill I would pay later at an interest rate way over prime. Maybe it was the speed, or maybe instead it was the tension and excitement of riding in a pack, or maybe I had caught a little bug from my wife who had begun to complain of not feeling well that afternoon before I had left for the drive up to Davis. What ever it was, it was pretty certain that at least the early miles weren't going to be easy on me.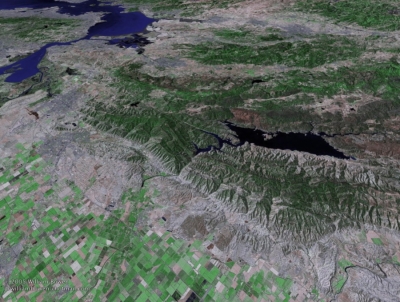 The first serious grade encountered on this route was the short climb up to Monticello Dam. The grade eases off a little after reaching the dam but the going remains slow from here to near Muscovite Corners where CA Hwy 128 meets CA Hwy 121. Cardiac, the local cyclists name for the highpoint along this road, is ahead and after a too short downhill run there are a series of rollers and a tricky landscape that makes you think you should be going faster than you can actually pedal. While the road here is familiar to me from doing the Davis Double Century, the Knoxville Double Century and countless club rides and brevets, what is not familiar to me on this brevet is heading in this direction in the dark. Even still, having a sense for where one is, and more importantly where one is going is a potent antidote to the effects of the dark. The climb to the dam very effectively splintered the large pack and the rolling, mostly uphill terrain that followed amplified the gaps between riders. On this short climb I got ahead of my friend Bruce. I had hoped and planned on riding most if not all of the ride with Bruce's company, and company during the nighttime miles is one more counter to the dark. Being able to pass riders on the climb I thought was evidence that my worry about using up too much energy on the flats earlier was without merit. As it turned out, there was considerable merit to that worry, and while the steeper section of this climb didn't do me in, it was the rollers that followed that slowed me far more than they should have. Bruce ended up passing me and I stayed on his wheel for a few miles and then dropped back and his taillights disappeared around the bend ahead.
The first control was at mile 45 or so. I had completely forgotten about the existance of this control and frankly my souring stomach and lack of energy had put me in such a foul mood I looked directly at, but didn't at all comprehend the Davis Bike Club sign on the side of the road announcing the location of the control. It was so very early on the ride and yet I was not at all sure I could continue. It was disheartening to have to battle with holding down my dinner and feeling all my energy dribble away. Bruce met me as I arrived at the stop and had been ready to go before I even showed up. He waited for me to get my brevet card signed and to pretend to eat and it could very well be that I didn't say aloud what was so very heavy on my mind for fear of opening my mouth and engaging in a technicolor yawn. At this point it was hard to say if I was more affected by the bad stomach or my ire at the circumstances. As we rolled out of the control and got back onto the pavement on Hwy 128 I managed to tell Bruce how bad I was feeling and it put into context just why I trailed him into the control rather than being ahead on the road as he had thought I would be. Bruce slowed his pace to match mine and we made our way toward Napa Valley. Well before we made that milestone though we met up with Paul Guttenberg and his tandem stoker Elizabeth Jessen. I was glad that Bruce had someone to talk to now, as I was very silent company at this point. Paul was one of the hosts of the now (sadly) defunct radio show Bike Talk, and as you might guess about someone that hosted a talk show, Paul had lots of stories to tell.
Paul and Bruce provided the commentary for our progress along the Silverado Trail as we headed northwest toward the next control in Calistoga. The Silverado Trail hugs the northeast side of Napa Valley and stands as a boundry between the valley floor and the hills at the end our run through the Vaca Mountains. Late on this Friday night the traffic is nothing like it would be mid-day on a weekend and instead of tourists the light traffic was made up of vineyard workers moving equipment here and there or heading home after a long, long day in the vineyards. The Trail has a wide paved shoulder designated as a bike lane, and generally clear of debris. We were able to make great progress throught the valley and in short order we were in Calistoga and looking for the control at mile 75. I felt like I was slowly coming back to life and my stomach was less of an issue. I managed to eat a little food, and pent a little time making costume adjustments and repacking all my rearranged gear. We missed, or more to the point, I missed Paul and his tandem leaving the control so Bruce and I headed out as a duo and very quickly we found another Paul to ride with, Paul Vlasveld. Paul is a familiar face from many of the double centuries in the Bay Area, as well as numerous brevets in the area. The route this brevet followed from Calistoga to Jimtown is the same as a section on the Terrible Two, and crosses the county line between Napa and Sonoma county with a climb of modest but noticable grade and length.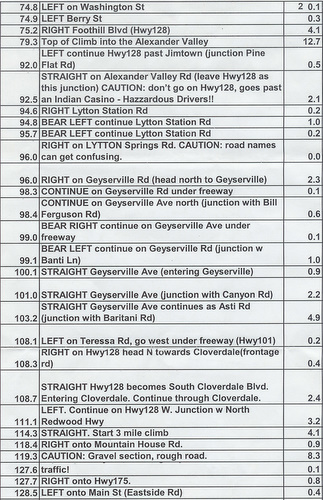 After Jimtown the rollers flatten out and we are in the Alexander Valley but still in the midst of many vineyards. Geyserville is a small town just off of Hwy 101 that it seems I've always passed through in the middle of the night. The last time I was there it was on the return leg of the San Francisco 400km brevet in March. Both times now there has been nary a sign of life and Geyserville is only a place where we slowed our pace momentarily. From having done that recent SFR 400km I knew that before we reached Cloverdale, the next sizable town on the route, there would be a little hill work to do and that work would be made a tad harder by the noticeable headwind. On the way to Cloverdale we would zig and zag to both sides of Highway 101 and it wouldn't be the last time for the outbound leg as a whole either. Cloverdale was not an official control on the outbound leg but it seemed that most of the riders stopped at the 24 hour Quicky Mart south of town. Most of the riders took turns sitting at one of the three tables set off in the corner of the store, but I fashioned a strap out of large plastic trash bag so that I could use it to do some leg stretches as I lay on the floor, listening to the conversations around me. Bruce and I made multiple trips out to our bikes and back to the relative warmth of the store as we settled on what was best to wear during the coldest part of the night, those hours before dawn. What was best to wear at this point was basically everything we had brought along with us, especially our fleece-lined shoe covers. Bruce lent me his vest (my own was nicely laid out, ready for packing on my work bench at home) as he put on a jacket and shoe covers. The vest and my own shoe covers I now had on proved to be up to the challenge. This next section featured a stout climb up Highway 128 to Mountain House Road. I had done this leg in the dark, again on that recent SFR 400km and had a better than vague idea of what to expect. Still, how could one not know what to expect when the road you are aiming for has the word Mountain in it.
By the time we had completed the multiple climbs on Mountain House Road, and were gathering speed on the run into Hopland, the sun was pinking the eastern sky along the ridge of the Mayacamas Mountains. The night had been clear and full of stars and the long dark stretches of roadway gave us the chance to gaze upon the night sky, had we just taken that chance. Instead we watched mostly for the tail lights of riders ahead, conferring on what was the next turn to take. Up to this point, the course had presented itself to me as having been stitched together with segments of many past brevets and double centuries. This section from Hopland to Ukiah was another segment like that, being a part of the Santa Rosa 400km brevet I had done two years earlier, though this trip was much, much colder due to the early hour, the clear overnight skies and the steady but not stiff wind from the northwest. The road surface began to get rough as we neared Ukiah on East Side Road. Paul and Bruce and I arrived at the Ukiah control and it was clear to see we weren't the only ones noticing the cold. Only Dan Shadoan was outside the motel, working on a big vat of oatmeal on the camp stove and bikes were parked all around him with all the riders huddled in hotel rooms.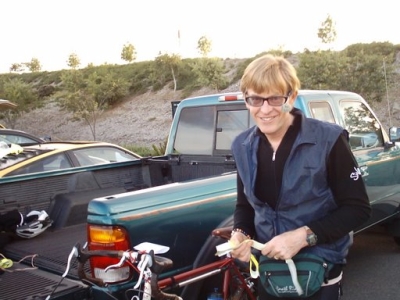 Bruce and I took seats next to the heater and we each worked on a bowl of hot oatmeal, which I mixed with cups of apple sauce and whatever liquids I could find. I took the opportunity to do more leg stretches after finding a clear spot on the floor. The room was heated by more than a dozen heat sources: the wall heater and all the bodies of the riders packed into the room. Bruce herded me toward our bikes and rolled south out of town. The route formed somewhat of an arc, with Ukiah being the northernmost point. From here, all the roads would be new to me as far as having ridden them on the bike, and others were new to me regardless of how I travelled. I knew some of the area and had an idea of what to expect near the turnaround point way ahead. I had not been on the Boonville-Ukiah road before but I knew, thanks to Bruce, that there was climbing to do and that it started just a few miles out from the control. In spite of the oatmeal and apple sause and hot chocolate I had in Ukiah, I still hadn't eaten enough up to that point in the ride and really needed to eat more soon. I was surprised then to find that not only could I keep Bruce's pace, but that soon I was able to ride ahead of him on the climb. We connected again on a short flat section near the top of the climb where we both stopped to put on more layers for the long descent into Boonville.
Boonville is the location of a small, solar powered brewery, and on this day the town was also host to a beer festival. It was still early though so traffic wasn't bad and wouldn't be so until our return trip through town. We rolled through town without stopping, knowing that the turnaround control was just over 20 miles away. Highway 128, just west of Boonville is more or less flat as it runs along the Anderson Valley. From the roadside we could see the landscape undulate before rising more steadily, then steeply as the mountains closed in on each side. Along here I began to get the woozy feeling that tells me I was late in filling my stomach. I had already tailed off behind Bruce and another rider we had picked up near Boonville. I had to stop to eat and drink properly and shortly after stopping Bruce came along backtracking to check on me. We managed to pound along and even up the pace a bit as we got close to the turn around point, and at 10:20 am we pulled into the control at mile 186.5. To that point we had been riding for 14 hours and 20 minutes, and Bruce had estimated that we would have arrived there at 9:45. In checking the earlier estimates, we had been ahead of schedule until Jimtown. It was in the Alexander Valley where we began to work against the headwinds and by Ukiah we were behind by 45 minutes, gaining back 10 minutes between there and the Paul Dimmick Campgrounds turnaround.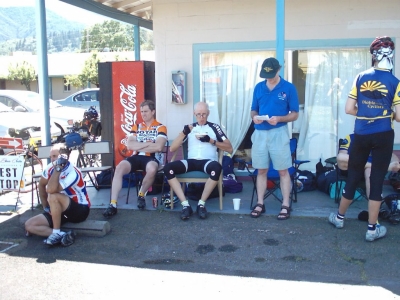 I found I had a mild appetite again and at this control I ate several bowls of cereal and several handfuls of nuts, raisins and M&Ms. I decided to make a stop just moments after we left the campground and Bruce and another rider rolled slowly on ahead. It took some concerted riding but I finally caught those two, only to fall off the back repeatedly before once more catching them and hanging on before the return to Boonville. All that effort emptied my tank once more and I insisted on stopping in Boonville for food. Bruce and the other rider really didn't want to stop and I really didn't want to make them do so either so I headed into the General Store and loaded up on food, as Bruce and the other rider rode on ahead. The day was heating up and traffic was now very heavy, in a rural sort of way as the festival was in full swing. It was good to turn off of Hwy 128 and take the Ukiah-Boonville road away from the growing crowds even if it meant climbing again. Along the way I needed to stop a couple times before finally reaching the top. I was passed by about four riders along this stretch but I didn't mind a bit. My pace was my pace and that was that. From the top of the Hopland Grade, the major climb on the Santa Rosa 600km Brevet, there is an incredible vista with Clear Lake in the middle distance and endless hills beyond. There was no such endless vista from the top of this climb, but even still what vista there was made the climb worthwhile. This stretch from Boonville back to Ukiah was a solo trip save for being passed by those four riders, and I made the control at the Sunset Inn Motel just as Bruce was ready to roll out. He had been there for a good 20 minutes, and I have to admit that it was heartening that I had only lost 20 minutes including the shopping trip in Boonville after splitting up. I spent my time at the control changing and cleaning up a little, snacking while I repacked my saddle bag.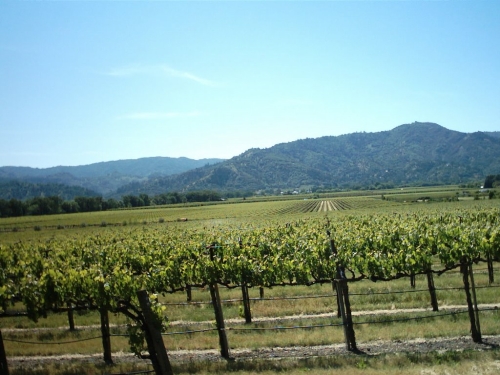 On the way out, the Cloverdale to Ukiah stretch was cold, windy and it was dark. The reverse then was in daylight, with a mild tailwind and pleasantly warm as I rolled alone past the Alexander Valley vineyards. Off to my right I could see the traffic on Highway 101 and ahead in Hopland I would cross under that highway yet again. I decided to stop in Hopland and get something to drink other than water and to use the restroom. There were at least two other groups of riders visiting the store at the time, all on their own day tour. The members of one group knew there was a brevet going on that day but quizzed me about the details: how far into the ride was I (245 miles), when did I start (8pm yesterday), and where did I start (Davis). They were going my way but I knew I couldn't keep pace with them but as we headed to Mountain House Road, they pulled off to regroup and I went on alone. This was the first time I had ridden Mountain House in the daylight and it was knock-down gorgeous. Sure there was plenty of climbing but the Live Oak dotting the rolling hills and the spring-green grasses were stunning. On the last climb on Mountain House before the junction with Highway 128 I was passed one by one by those riders I met in Hopland. Each one offered encouragement and expressed an awe of the ride I was doing. With that boost to my morale the remaining climb on 128 became easy and I blasted downhill into Cloverdale where the next control was.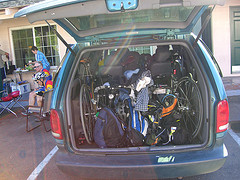 Dan was supposed to be working this control, but I had overheard back in Ukiah that he had been pressed into duty picking up riders that had for one reason or another succumbed to injury or fatigue. Dan did leave behind at the control a bag of goodies that included a towel, soap, fresh riding shorts and a gingerbread cookie. I had also packed a toothbrush in that bag that Dan dropped for me and it was heaven to take a hot shower, put on clean clothes and brush my teeth. What was missing at this rest stop was the will to eat. I munched a few chips but couldn't drive myself to eat more. Phil Morriss, a member of my cycling club was at this control and was ready to leave just as I was ready too, but then a friend of his asked him to wait a moment, and one other person begged a moment too. We left as a group of four but by the time we reached Geyserville I had to drop off as my stomach was doing flips and grumbling. I could see those three riders way off ahead for a long time but I couldn't close the gap and really didn't try. As I reached Jimtown, I could see there was a rider or two just ahead. I needed to stop to shift fluids and those riders got out of sight again but once I got rolling I made up time again, and passed them as they had stopped on the roadside for some reason that wasn't readily apparent to me. Up ahead was the climb to the county line where our course would take us back into the county and valley of Napa, and the town of Calistoga. The sun was setting and I made a promise to myself that I would stop briefly at the top of the hill before rolling into Calistoga. It's ironic though that at the top of a hill I would have my lowest moment of the ride. While off the bike trying to keep from peeing on my shoes, my stomach finally got the best of me. While cursing my misfortune, I used up almost the last of my water and the supply of baby wipes I carried to clean myself up. It was pretty much full dark now and I had hopped to be in Calistoga at sunset. In too wobbly a way, I made my way down the hill with all my lights on and then once inside the city limits I got lost trying to find the downtown where I knew the hotel room Bruce had reserved was waiting. It was clear that I really needed to sleep at this point and I was frustrated at getting lost. I had rolled past the market where Phil and quite a few other riders were resting and eating, and had to return there to confirm which way I was to go. Weary as I was, I just couldn't make sense of my cue sheet but Phil and the others got me pointed in the right direction and in 10 minutes I was in the lobby of the motel drinking tea as the receptionist got my key. Bruce had left a light on and it seemed as though he was already awake when I came into the room, but in a few moments he was asleep and I quietly took another shower and went to my room to catch nearly two hours of much needed sleep.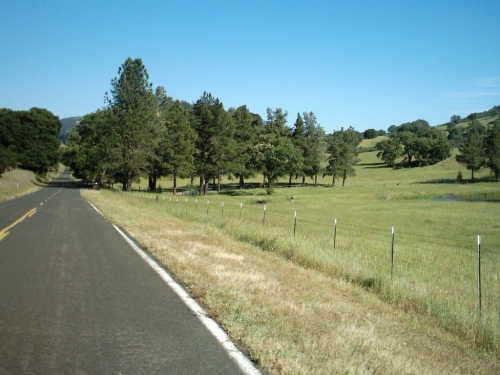 Bruce had been in the room for well over an hour before I arrived so he got quite a bit of sleep and we left a little bit ahead of his schedule and headed south on the Silverado Trail. Again we travelled through Napa Valley late at night and once more we connected with Highway 128. It had been cold and getting damp in Napa Valley and the dampness eased a slight bit as we climbed. At one point though we rode uphill into a temperature inversion that was stunning in it's contrast to what we rode down into just moments later. The temperature difference must have been 20 degrees. It took us over two hours to travel the 30 miles from Calistoga to the control at Cappell Valley School. We were prepared for a quick stop there, thinking that we'd be checked in and served food out in the cold. Instead, to our surprise, the school was open and the place was filled with bodies scattered all over the floor. We could recognize some riders by their jackets and other gear, but so many were just piles of blankets with tired, tired riders lumped underneath. Mike Biswell had completed his 600km two weeks before and was working this control and he and the other control workers kept a steady stream of food and drink coming our way. Riding along before the stop I wasn't aware of how truly cold it was and upon arriving at the control we went straight inside. Stepping outside later to remount our bikes and push on, it was all too apparent just how cold it was. Bruce checked his cycle computer's temperature reading and the display of 37F convinced us we had to start pedalling and generate our own heat.
I have ridden along Highway 128, past Muskowite Corners quite a number of times. It's been near the begining of rides, near the end of rides, I've ridden it as the sun rose and as the sun set, on windy days, on rainy days and now I've ridden it while dog tired with well over 300 miles on my legs. It used to be that the hills here while not steep would still cause me concern. Now I've done them so many times, and I know I can get to the top of the climb. It's just a matter of how fast, or how slow. The peak of the climb is now a very familiar one and when I see the sign warning trucks about their speed after going around the big bend I know that save for one small rise in the middle, there is a nice long downhill run past the dam, across the river and past the sleeping campground. We had the road to ourselves as the sun rose ahead of us. The lack of traffic was a boon as this stretch is often strewn with sharp rocks that have fallen from the cliffs and hillsides from which the road was cut. As we make the turn past Pardesa Store and across Putah Creek we hear the peacocks calling out our presence. A short but noticable climb and a left turn and we are on Putah Creek Road and from here to the finish the only climbing will be at underpasses or overpasses to the Interstate Freeways we have to cross. At one point as we approached a farm, the resident dog decided to state his case and announce his presence. For a brief moment we thought the dog might harrass us by defending his territory more aggressively, but in response to Bruce's brief initial concern, I told him "challange him!". Bruce crossed the road and began barking right back at the dog. I'm pretty sure the moment that was about to unfold was the highlight of Bruce's morning. It was clear the dog was not expecting anything to bark back and after assessing the situation for perhaps a nanosecond, all the dog's bluster was gone and he didn't just back off, he tucked tail and ran, and then ran faster still as Bruce sped up and barked again. Bruce admitted later that he was probably just as surprised about the dog's reaction as the dog was surprised to get barked at in return.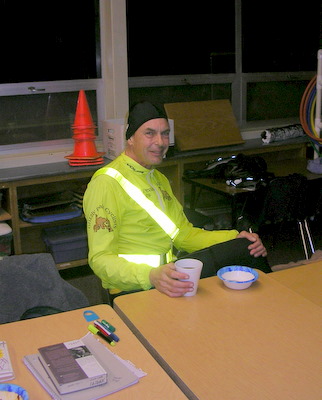 There is one more control before the finish, but there were two more stops to be made before we even reached that control. A pothole here causes the only flat for the entire ride for either of us. I'm not so sorry for the stop as it gives me a chance to stretch my back. I'm not sure just what it is but on long rides that finish with a run across flat terrain to Davis, my lower back always gets sore. This doesn't happen on rides with hillier finishes. A little bit later I need to send Bruce on alone. I can't ask him to make a stop that is only for the sake of stretching my back. As it turns out he makes the control, a stop at a mini-mart near a freeway overpass, just minutes ahead of me. Now that we are clear of the hills and any cover that woods and terrain might give us, we are exposed to the strong central valley winds. For all but the last five miles, the wind is a cross-wind or ever so slightly a tailwind. The cookies and iced tea I bought at the mini-mart are what I had my heart and mind set on, and my stomach thankfully is not disagreeing, so I'm pleased with that source of fuel. On the very last road before the left hand turn into the wind we take turns riding point and blocking the wind for the other rider. At the turn, the wind really smacks us down and Bruce calls a stop to put things in order for the work ahead. We trade off taking pulls of about a mile in leth for each of us. Any clump of bushes, a tree, or even better a building that comes along on our left side makes a noticable barrier to the wind. It's not like it blocks it completely but rather lessens the intensity and it's only because we are going so slow that the effect seems to last any length of time. Finally we reach the Davis city limits and the road widens and more trees and houses appear. We catch the red light just before the freeway overpass, and we begin to smile just a bit. We only have to cross the freeway to get to the Park and Ride parking lot and the finish.
Thirty five hours and forty five minutes after we started, we roll into the finish and surrender our brevet cards after jotting down our control times on our route sheets. Reid Walden and Tim Woudenberg were there to greet us in addition to the control workers, both Ried and Tim having finished the ride many hours before. A tough ride is finished, but I think it is telling that I can hop on my bike to ride it the 30 yards to Bruce's car instead of walking over. Once at the car we dig out clean clothes and get changed. The advice we got for breakfast is thankfully for a place less than a half mile away and within 30 minutes we had already digested that breakfast and were thinking about sleep and more food, in no particular order. This was my second 600km brevet, and it was clearly a tougher ride to complete. I think throughout I had more confidence in being able to finish than I had on my previous 600km, and more telling is that even in the hours after the ride is done I am thinking about the next step, the 1200km ride in France this coming summer. After finishing the Santa Rosa 600km two years ago I just let my friends talk away about that summer's 1200km ride, the Gold Rush Randonee. I was signed up for that ride too but right then I really didn't think I had it in me to do it so I kept quiet. This time, I was confident because of what I had been able to accomplish since the previous Friday evening.
The value of a long ride such as this can be overwhelmed by the negative aspects. If you let that happen of course. Instead of remembering how cold and windy it was on the ride from Jimtown to Cloverdale in the hours long before dawn, I'll remember defeating the cold and overcoming the wind. For me, I won't remember the stomach troubles I had to deal with as well as I might remember the sunrise in the valley near Hopland. I'll also remember better the joyful mood of all the riders resting and chatting in the warmth of the crowded motel room in Ukiah, instead of recalling the bone chilling cold we rode through to get there. Late Saturday afternoon I was tired, and riding alone but what sticks with me about that time was the beauty of the landscape along Mt. House Road, and the words of encouragement and awe passed along by the riders I met there, riders I hasten to add who looked like stronger and better climbers than I am on my best days. There are better things to do than relive the low points of the past.