Mural/maps
---
Back in my early days of cycling, when I lived in Michigan, my friends and I came across a mural on the side of a store in a town while out on a day ride, a number of miles west of Ann Arbor. The mural showed the layout of the town, with presumed points of (commercial) interest. Over the years I've run across more of those types of murals, always in small towns. Most mural/maps show a bit more of the local area, but in Leggett, there isn't much beyond the main drag. No matter, it was an idyllic place to begin a 250 mile bike ride.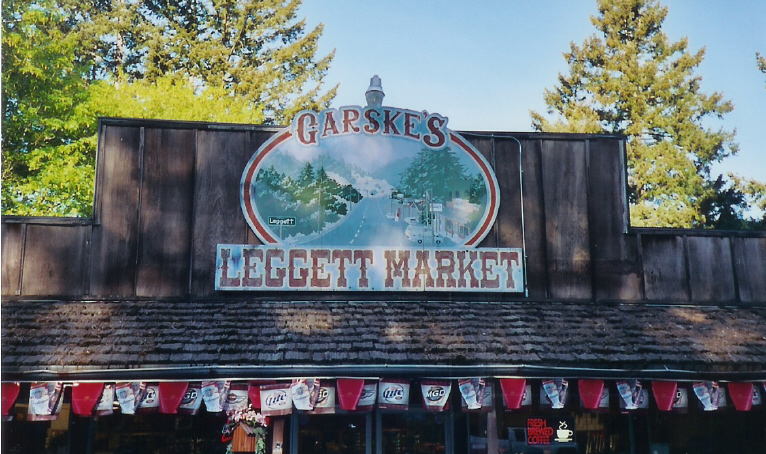 The mural/map on the Leggett Market
---
I've taken a 4-day bike tour down the central coast of California in April twice, in 2002 and 2004. South of Pismo Beach, the route leaves the coast and passes through the agricultural town of Guadalupe, CA. I love the disembodied hand that points out the location of Guadalupe.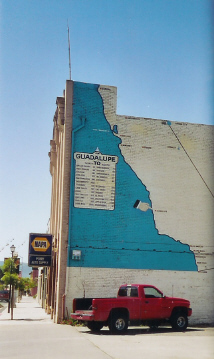 The mural/map in downtown Guadalupe, CA
(click here or here for more detail.
Additional photos courtesy of Jun Ashima)
---
Each year I do a long ride with my cycling club that starts near Los Altos and heads to the coast, then south to Santa Cruz and back north from there to the start. Pescadero is a small little town inland from the Pigeon Point Lighthouse (which you can see on the right hand portion of the mural), and has a store that bakes this fabulous artichoke and garlic bread. Down the street from this bicyclists hangout is this store with it's mural.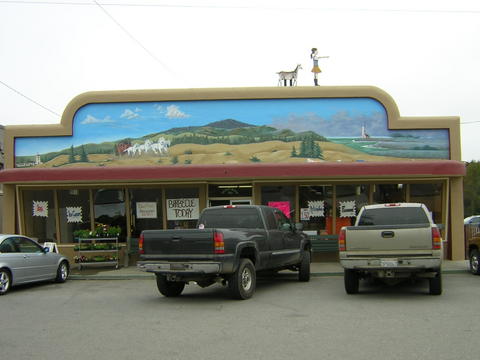 The mural/map in downtown Pescadero, CA (photo by Rob Ballard)
---
Also on the same route as the above location is the town of Bonny Doon, CA, a long climb uphill and inland from the coastal town of Davenport, CA. Santa Cruz, CA is in the lower right of the map portion.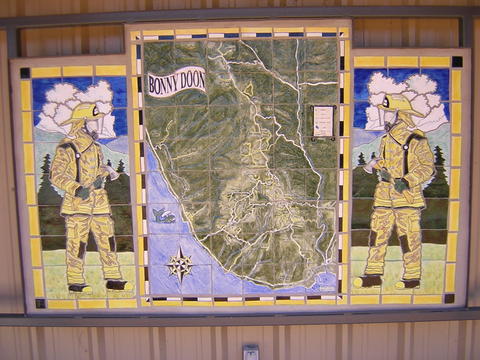 The mosaic/tile map in little Bonny Doon, CA (Photo by Rob Ballard)
---
Inverness, CA is the last town on the way out to Point Reyes Lighthouse. There are a couple of places to stop for food, the cafe in Inverness Park being a favorite.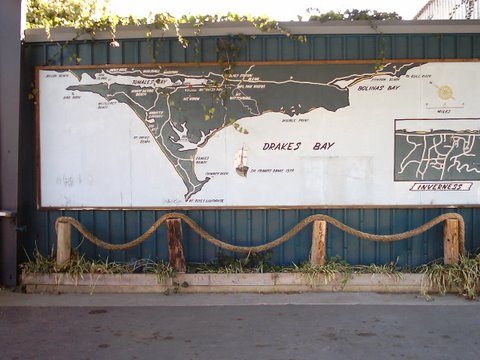 Inverness, CA, on Tomales Bay.