"Perfect Harmony" Taiko Store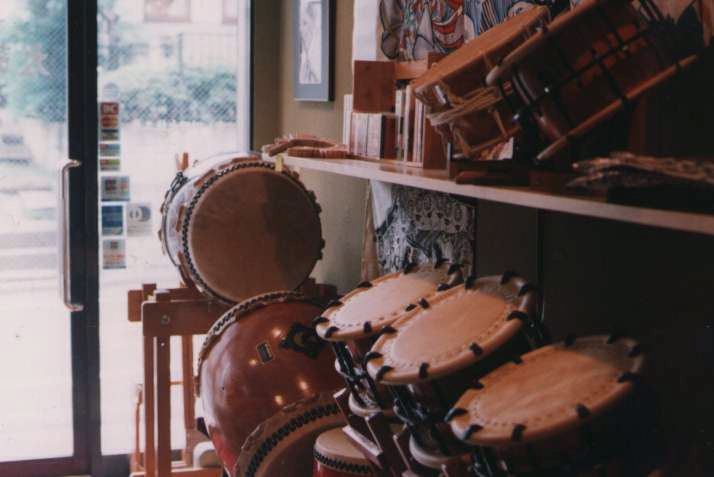 ---
Taiko Drums & Accessories from Kawada Taiko of Fukushima, Japan



Kawada's High - Tech Taiko


Our taiko store "Perfect Harmony", is the US sales representative for Kawada Taiko of Fukushima, Japan. Kawada Taiko makes quality taiko drums using both traditional and innovative techniques. Kawada also carries a complete catalog of accessories. They accept mail orders, and ship world-wide. Best of all their products are competitively priced.

Kawada's product line includes Nagadou taiko (from large "O-daiko" to smaller "Jozuke"), Hira daiko, Okedo taiko, and Shimedaiko. Their traditional "one-piece" taiko are handcrafted from a single log of Keyaki, Tochi, or Sen wood using techniques that date from the Edo Period.

In addition to the traditional "one-piece" taiko, Kawada has also created the "High Tech Taiko." Since the President and employees of Kawada Taiko are concerned with conserving the world's natural resources, they sought innovative techniques for manufacturing taiko. The "High Tech Taiko" was created as an alternative to cutting down the old growth trees that are used in making large "O-daiko." High Tech Taiko are made of oak (Nara, or Tamo) stave construction, and are designed to look and sound like traditional one-piece taiko. They are high quality, yet affordable, and can be made to any size.

Kawada's catalog of taiko accessories includes: Atarigane (also called Chanchiki); Chappa (small hand cymbals), Fue (flute), Bachi (taiko sticks), and much more. Clothing such as tabi, hanten, momohiki, and haragake, along with instructional video tapes and CDs can be mail ordered from their catalog.
Spring / Summer 2000 Taiko Specials!

Price List | How to Order

Ni-Chougake (#2) Shimedaiko

Kawada Taiko is currently are offering a "Ni-Chougake" (#2) shimedaiko for $900.00 (price does not include shipping, CA residents - sales tax is extra). This shimedaiko is a good first-time purchase for those just learning how to play. It would also be a nice addition to a "Kumi Daiko" taiko drum set.



PRICE = $900.00



1.2 Shaku Okedo

Kawada Taiko is also offering a special price on their 1.2 shaku (14.5 inch diameter) Okedo. This Okedo is perfectly suited for strapping around your shoulder "Ka Kai e" style. The wood body model is $1,220.00. An optional synthetic body is available for $1,000.00 (prices do not include shipping, CA residents - sales tax is extra)

PRICE = $1,220.00 - wood body
PRICE = $1,000.00 - synthetic fiber body


---
Taiko "Do-it-Yourself" (DIY) Kits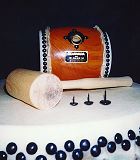 Kawada has designed "Do-It-Yourself" taiko kits (DIY Kits) for those trying to achieve professional results from their wine barrel taiko, or wood shell and PVC pipe shimedaiko.

Basic Taiko DIY Kit - this kit is for barrels up to 30 inches (2.5 shaku, or 75 cm) in diameter. Larger sizes can be special ordered. Each kit contains the appropriate number of tacks (called "byou"), and 2 handles (called "kan"). If you need help determining the size and number of tacks for your taiko, please look at the table on our Price List Page. Our tacks have been specially manufactured by Kawada Taiko for use in making wine barrel taiko. They won't slip, or crack the shell. Your taiko skin won't lose that "tight" sound. And unlike upholstery tacks, if removed with care, the DIY tacks can be reused.
In addition to the tacks, 2 handles are included with the kit. The handles will make both a decorative and practical addition to your taiko. Moving your drums will be much easier and less risky! Instructions are provided for both the handle installation, and the skinning.

Custom DIY Kits - custom kits are available by request, for example brass tacks or other custom colors. If you are looking for a particular kind of hardware, or other taiko making materials, send us an e-mail - we'll see if we can find it!




Shimedaiko "Do-it-Yourself" Kits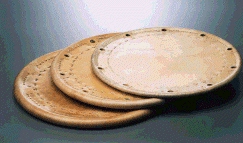 For those trying to tackle the difficult task of making, or re-skinning a shimedaiko, the Shimedaiko DIY Kit is the solution. Each kit contains 2 skins, and either rope or bolts. Rope requires some ability to tie intricate knots, instructions are included. Shimedaiko are meant to be tuned to a high pitch. The amount you can tighten the skin depends on the thickness of the skin. Gochougake shimedaiko have the thickest, heaviest skins and can be tuned very tightly.

DIY Rope Shime Kit - this kit is for a traditional rope shimedaiko, and includes 2 shimedaiko skins (you must specify the weight & size, see the chart below) and rope. A diagram of how to tie the rope, and written instructions for assembly are included. This kit can be used to re-skin a shime, or complete a shime built from a home-made shell.

DIY Bolt Shime Kit - this kit is for a bolt shimedaiko, and includes 2 skins and bolts. A diagram of how to fit the bolts together, and written instructions for assembly are included. This kit can be used to re-skin/make a shime, or convert one from rope to bolt (since many people have trouble with rope tuning).



Shimedaiko Skin Sizes
Name (Thickness/Weight)....Diameter / Height of the Shell
Namizuke (thinnest/lightest)...................39 cm diameter / 5 sun (15 cm) shell only
Nichogake (medium/light)......................39 cm diameter / 5, 6, 7 sun (15, 18, 21 cm) shell
Sanchogake (medium/medium)...............39 cm diameter / 5, 6, 7 sun (15, 18, 21 cm) shell
Yonchogake (medium/heavy).................39 cm diameter / 5, 6, 7 sun (15, 18, 21 cm) shell
Gochogake (thickest/heaviest)................39 cm diameter / special orders only


---

Return to Tatsumaki Taiko's Homepage

Jump to Kawada Taiko's Web Site (http://www.kawadataiko.com)

10/1/99 akudo3
Images courtesy of Kawada Taiko Company, Japan