What's what
Man bites dog, here.
Double decker London bus (as opposed to some mini in Africa or Asia, where the upper deck means you ride on the roof) plunges 30 feet into a children's play area.
No one is hurt.
Big-time media coverage here, despite the a zero body count, complete with many pics of the prone bus.
Of note
Each person on the bus – all ten of them – is accounted for in the reportage. When's the last time you saw that in a 3WP! (third-world plunge)?
Don't bother thinking about it.
No one hurt in double-decker bus plunge
LONDON, Oct. 14 – Ten people escaped serious injury yesterday when a double-decker bus crashed through a wall and plunged 30ft down an embankment.
The vehicle careered across a grass verge after hitting a car which had crashed into some railings. It went down a slope before landing on its side in a playground. A 14-year-old boy who was trapped in the wreckage for 30 minutes was taken to hospital with minor leg and hip injuries. Four adults and four other children were taken to hospital with cuts and bruises. The other person on the bus was unhurt and the driver of the car was not badly injured.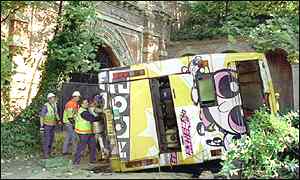 The accident happened in College Road, Crystal Palace, south-east London. Sam Trenchard, 30, an information technology consultant, who was sitting in the lower level, said he heard a shout from the driver and then the noise of the impact with the car.
He said: "I felt the bus tipping. It went through a wall and dropped 30ft on to its right side. When we realised that it had stopped moving people scrambled to get out." Mr Trenchard, who escaped with cuts and bruises, said: "The driver was up and conscious although he looked in a state of shock. He said he was sorry." Ruth Phillips, 39, who received cuts to her hands and feet, ran to a nearby cafe where she works. Irene Howelles, 48, the owner of CJ's Cafe, said: "She came in screaming.
She was hysterical and had no shoes on. She said the scene was dreadful and she thought she was going to die. She was really shaken by it." Steve Depaul, 31, who saw the accident, said that the bus was poised for a few seconds on top of the embankment before it fell. He said: "It all seemed to happen in slow motion but then it dropped and I heard a loud crash. I went to look over the wall and could hear groaning and moaning from the bus.
The driver had managed to get out and was looking in through the broken windows to see if anybody was in the bus and moving." Insp Andrew McMillan, of the Metropolitan Police, said: "The consequences of that bus being full of people are too nasty to contemplate. If the bus had come along half an hour later it would have been full of kids on their way to school. It is amazing that all the injuries suffered have been minor."
Assistant Divisional Officer Ian Pettit, of the London Fire Brigade, said: "The bus ended up on its side, five yards from a row of houses. It would have landed on the roofs if it had gone any closer."
BBC