Great Spruce Head Island Art Week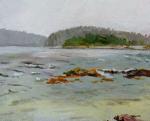 Each summer since 1993 a group of 12 artists, (painters, writers, sculptors, photographers) some new, some repeaters have come to Great Spruce
Head Island to work independently and to share their love of the artistic process. This large private island provides a nurturing environment for people with a broad range of creative expression.
In the quiet and simplicity of island life, creativity can flourish. Art week has no
instruction or structured workshop. Participants enjoy three special meals
a day, a private bedroom and work space on one of five porches. The island
also provides many opportunities for physical exercise; including miles of
hiking trails, secluded beaches, tennis and boating.
An inter-island mailboat makes daily trips from Sylvester's Cove on Deer Isle. Parking is
available. By air use Bangor Airport and taxi.
In 1912 a Chicago architect, James Porter, purchased Great Spruce Head
Island in Penobscot Bay and built a 12 bedroom "summer cottage" for his
family of five children who spent summers there throughout their lives.
Little has changed. Food is still cooked on a wood-burning stove. Solar
energy now provides electricity. Island living greatly influenced the family.
It fostered a passion for nature and shaped the lives of his children, Nancy
photographer Eliot, painter Fairfield, and teacher, John Porter. Their
children and their children's children continue the tradition as a haven for artists. Application info