Dear Diary - August 1998
My current email address is gryffyn@there.net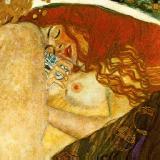 I've decided to keep an ongoing diary/journal online. This is for all my (wired) friends back in Indiana that I don't write enough, and for anyone who really wants to get to know me better. If you're not sure who I'm talking about here, you may find more info under Who's who.
As with the "selected" journal, I'm not putting up anything overly personal up here, so quit skimming for the juicy bits and check out my erotic poetry instead.
Wednesday, August 5, 1998
Goodness! Is August here already? Yikes!

Tonight David and I ate the first tomatoes out of my garden. There's nothing quite like the taste of sun warmed tomatoes fresh from the garden.

I've been sick for almost 2 weeks now. Yesterday I went to the doctor (again) and he looked in my ear and said, "Yup, you've got an ear infection" to which I replied, "Thank god". Not that I want to be sick, it's just nice to be *curable*. I'm already feeling better after almost 2 days on antibiotics. Whew.
Monday, August 10, 1998
Well, I cut off my nails.
What could cause such an action, you're asking yourselves? Especially since I was a childhood nail-biter and have been so proud of my pretty nails these days. Why would I willingly clip them all (left hand only, I should mention) down to the skin?
I'm learning to play the guitar.
Yup. David's influence. I comfort myself in the fact that it took over 6 months of hanging around him before I came around. See, I've always had this, thing, about playing the guitar. It just seems to be such an ubiquitous instrument in modern music, that I didn't want to conform by learning to play it (or even listening it to overmuch). I'll never forget when Tony (a guy I dated off and on in college) urged me to "listen to more guitar music". He himself was a guitar player, and he was very into it. I responded by buying "Trinity Session" by the Cowboy Junkies; Tony told me, "well, it *does* have *soft* guitars . . . but you're really missing my point."
Anyhow, I've been listening to David play; I've been listening to the blues and jazz guitar music he's played me. I've gone to Connolly's Bar on Monday nights and listened to my co-workers perform their original songs, accompanied on their guitars. I'm worn down. I'll admit it, it sounds/looks/is cool.
I was a bit discouraged Saturday night during my first lesson. I thought it would be easier (everyone always tells me that guitar is one of the easier instruments to play - hah). I was hard pressed (pun intended only lightly) to get my fingers to conform to the first open position chord, "D". After about 15 minutes of grunting, swearing (a bit) and whining, I managed to get the chord out cleanly. Sort of. It was then I grabbed the nail clippers and made the commitment to learn to play the guitar. It had convinced me it was worthy :-)
Now I "know" "D", as well as "C" and "G". Now I just have to change between them (I can do "D" to "C" with a small pause to look between - hey, it's difficult!). I know how to tune a guitar (to itself). I'm even refreshing my knowledge of music theory (more or less unused since high school - 7+ years ago). It'll be awhile. My tender fingertips hurt even as I type this. David estimates usable calluses (you need them to be able to play) after 2-3 weeks of daily practice. He's letting me borrow a guitar. It's been a long time since I've played music. I hope I get to that point.

Yesterday we went to see "Damaged Care" put on by the San Francisco Mime Troupe in Mosswood Park in Oakland (very close to my house). It was, well, entertaining. It was a spoof on the HMO health care situation these days and was ironically performed almost in the shadow of Kaiser (the HMO my insurance provides). The script was unfortunately terrible with amusing gags. It was done in the commedia dell'arte style, with half-mask caricatures and over-the-top physical comedy and almost-raunchy jokes. I know, I'm being vague. My favorite part was when the hero (if you can call him that), calls to get an appointment ("call 1-800-NOT-SICK") and is lost in the automated voice answering system ("If your head hurts, press 1, for sore throats, press 2 . . ."). He's put on hold ("The Girl from Ipanema" is the hold music, and I'm still humming it) and my comment (having dealt with this myself) was "there goes the next 30 minutes of the show!" Fortunately, I had to suspend my disbelief when the automated voice answered again only a minute later (which is long in stage time but very unusual in HMO actual answer time). Ah, it's not worth trying to go on about it. It was amusing enough, but hardly great theatre. It was also free.

We were supposed to go swimming up at Lake Anza today, but David isn't in the mood. Oh, he'd drive me up there, but would sit in the shade and read while I swam. *sigh* No fun that way, at least that's what I think. Pity, as it's a nice, hot day for swimming. Perhaps I can convince him to swim *next* weekend.

Oh! I almost forgot to mention! I interviewed for a tech support job (entry level, to be sure) at Lanminds last week. Todd, my dear, dear friend, got me the interview. I guess there's actually a chance they'll hire me, which would be so grand, I can't even tell you. The pay is a bit more, but the main perks would be the opportunity to *learn* all sorts of technical skillz and still be working for a small company with cool, cool people. I am so TIRED of doing the same old mindless crap over and over again. I love the people at my job, but I'm so understimulated I want to scream most days. Lanminds would be a blessing. Cross your fingers for me!

Speaking of technical stuff, I should mention that Todd finally got some stuff up on his page. He went to the latest hacker's convention in Las Vegas a few weeks ago, and came back with a head full of ideas. Check out the latest security concern for Windows users here.
Wednesday, August 12, 1998
Happy Hump day!

Not that I have tons to tell you today. Oh, I have full days at work, but there's not much to tell there. I call landlords all day long. Its one saving grace is that I get a commission. Today, David met me for lunch, which was a pleasant change. We went to The Counter, which is at the corner of MLKJ Way and University in Berkeley. Yummy veggie sandwiches. I had the Club, which I just realized I left in the fridge at work. I'll have to remember to eat the rest of it tomorrow.

Feelin' a bit off these days. I'm reading Paul Theroux's The Great Railway Bazaar. It's a travel book, describing his journey by train from London, through the Middle East, down and up through India, up through East Asia, and then back via the Trans-Siberian Express. It's making me want to travel. I yearning to *get out* of this country and experience more than just wary landlords on the phone every day. *sigh* Have I mentioned here that I've yet to make it out of this country? No? Well, it's pitifully true. And I'd give almost anything just to jaunt down to Mexico for a few weeks. (It doesn't help that Todd's planning a 3 week trip to Mexico in December. December! Mom would kill me if I didn't come home for the holidays!)
Theroux mentions this book in a recent article in the New Yorker (Aug. 3rd issue). The article is extremely interesting in that it describes the rise and fall of his friendship with V.S. Naipaul. The story is shockingly truthful-sounding and ends with an admission from Theroux that he used his former friend for material (but isn't that what all writers do? Look at this journal, for heaven's sake). Still, Theroux must have decided that the friendship was unsalvagable to write such an article. Really. Check it out.
Why was I going on about that article? Oh, yes, in that article he mentions how The Great Railway Bazaar made him financially stable. That one brief mention makes me think, "Hey! I could make a living traveling around and selling my journals about it!" Heh. Oh, if only. I'm lacking money.
I'm lacking guts, at the moment.

What else, what else? Wrote a new poem or two, though I think they're still rough. I suppose I'll throw up one of them:

My wrist hurts
positioning behind
fingers stretching, aching
to reach each string
I strum my first chord
and you tell me,
"Check each one"
I pluck
each string
and find a finger on a
fret
muting the note.
I try another chord
and it seems even more impossible.
You strum
vibrations swirl
caressing my ear.


I try again
eager to sound like you
This guitar has convinced me
it's worthy.
I make a chord
pause

and manage
another.
I'm glad this isn't easy.


My fingertips as
sensitive
as other raw
nubs
nails clipped
strings leave
grooves
on my exposed fingers.
Your idle tunes
still sound
deceptively simple
but I give you an
intense look.
You smile
and duck your head
lips pressed in a
barely compressed
smile.
We're close I'll be sharing music soon;


Heather Shaw
August 11, 1998

Heh, that could've been my journal entry, huh? Oh, here's another that I adore. I wrote it last month, and it's still not done, but hey . . .

He fits
like an underwire bra.
Stiff and new
awkwardly cupping
my breasts.
Poking my ribs
in a way that doesn't
make me laugh.
New bras are like that
bulges in the satin
straps too tight or sliding
down
at the wrong time.
So I bend out the ends
I wear him
against my curves
molding his fabric
over my chest.
I sweat
the heat of me
loosening him
softening him
until he fits
like second skin.


Now, he's a pleasure
he knows my body's
many moods
and he supports me
through them all.
He lifts me up
separates
my sorrows and
helps me present my
perky side
to the world.
I tuck small treasures
in the small space
between us,
and he keeps my
secrets
safe.

But the heat of me
that melted him
to me
keeps melting
keeps stretching.
The soft satin
wears thin
and the elastic
that held us together
gathers split-ends
and fly-aways.
He sags
under
the weight of
my breasts.

But I can't bear
to throw him out.
I tuck him in my
drawer.
His days of ladies
locker room admiration
are over
and my friends
don't see why I keep him.
But I still take him out,
wear him on those days
when it's just the two
of us.
I still wear him
when I want
comfort.

Heather Shaw
July 20, 1998
Friday, August 14, 1998
Pardon the brevity of this post, but I just wanted to post this link here before I finally get off to bed. Not sleeping enough these days, so I'll have to wait and do commentary on my new Photo Gallery until tomorrow.
Saturday, August 15, 1998
Hullo, my pretties. Feeling in a rather willowly way this weekend. I wanted to write to you about the different personalities of conductors on the BART, cooking a rather tasty Lemon Broccoli Pasta and, of course, my pictures. Not at all guaranteed, especially not in that order.

Cooking. Well, here's how that went :

Me, the Broccoli and the Lemon Tree

(dedicated to all those who've fed me and/or watched/helped me cook, especially, Mom, David, Shel, Brian, Holly and even poor Kellie, who cooks less than I!)

I first scanned the ingredients and immediately noticed my lack of vegetable stock. Merde. Improvising the way I learned from . . . hrm, maybe I read it in a book . . . improvising by chopping off the stalks from the broccoli and the leafy end of my green onions and boiling it all with the garlic skins to make vegetable broth. Of course that took awhile, so I busied myself by slicing the green onions (about 8 medium) and chopping the broccoli, pausing to throw other unused bits in the veggie broth stew.

Then I chopped up garlic (Tablespoon? I dunno, about a third of a bulb) by pressing down on it with the broad side of a chef's knife first, to make the skins easier to peel off. I then sliced the crushed cloves lengthways.

I made the mistake of starting to saute the onions and garlic too soon, and I had to turn them off and cool them off before I could go out to the backyard with a broom to knock a HUGE lemon out of the tree. I then grated the lemon peel with a tiny grater. I started up the fire again, this time adding the lemon (2 teaspoons) and a cup full of the hard won veggie broth solution:

To get the broth I had to spoon it out into an oversized strainer, which leaked, but I got about three cups, maybe a half more, and added it to the mix. I also added the broccoli, which I know I chopped can't remember ever having the time for it.

Angel hair pasta is a must in a tight situation like this. Added an inch and a quarter diameter of it along with the 2 1/2 heads of broccoli, chopped (3 cups or more). It was a pain to get it well mixed. I let that boil until the water, er, I mean veggie solution, was absorbed.

I turned off the flame and, after doing a wary sniff-test (it was a case where I'd have consulted Brian before proceeding), added 1/4 cup of low-fat sour cream. Makes it kinda creamy, like alfredo sauce, but not as heavy.

Made up a nice plate, and poured filtered water and ate. My one regret is napkins. Need to wipe yer face. I'll have to remedy that soon.

Photos! Photos!

Ok, so here's my little guided tour of the photos Ian was dear enough to scan in for me! I should have had him scan one of himself in. He's a handsome fellow.

What else? Personalities of train conductors will have to be rescheduled. I'm going to the movies

I think I'm lied about the movies. At this point, I'm thinking about reading in bed. Ahhhh. G'night.
Monday, August 17, 1998
This journal comes directly after reading Mary Anne's And Can This Ever End?, a very well done first attempt at a hypertext story. Really. I'm impressed. And rather inspired. After this mini essay, I might just go play with my own hypertext story. I really like the style.

DO NOT READ THE FOLLOWING WITHOUT READING THE STORY FIRST!!! Seriously, I'll spoil stuff for you. Go read the story, *then* read my comments.

It is suggested that you don't read them in order, so I didn't, starting instinctively with "forest"; I was certainly not disappointed by the fairy tale/brisk walk through the woods. The erotic element was lush, and the crisp air echoed the very slight discomfort of the characters. Other segments, such as "rust", do not flinch away from raw emotion. I loved the ambiguity of *who* is speaking in "rust".

Mary Anne's attention to detail is fabulous; in "cobalt" she says worlds about Patrick and Rosa's relationship (at some point in time, we really aren't sure *when*, which adds to the fun) by having the tea-maker (who?) use "the silver spoon that Patrick found for fifty cents at a city rummage sale and brought home and polished until it shone." The only name given in this segment comes when mentioning the past. Again, the symbolism is there, but ambiguous. Is Rosa, with her light, light hair, Patrick's shining silver? It is then suggested that somewhere in their relationship, perhaps when they met, he saw more in her than a tarnished spoon. The reader is free to make up any number of scenarios for their meeting, but this is both a clue and a directive push. Patrick's protective role is both reinforced and questioned in the next line: "And the tea is ready, silver stirring in the deep cobalt blue". Now, the cobalt blue mug is surrounding and protecting the small spoon in it, right? But she's also penetrating him. She's stirring him, mixing him up inside.

Oh, I'm having too much fun digging through the symbols in this piece, and I'm glad Mary Anne provides many. The images pour and bleed, meshing into each other in a seamless pool of character, setting and action. This is not a story for the symbolically impaired; it is mainly by pondering the lush symbols of some segments, one can find a story. Everytime I go through, or read a segment again, I find a new detail, an earlier occurrence, a shift in time that recreates the plot I had already imagined. It will be interesting to see how Mary Anne's new segments will mesh in. Certain details are definitely fixed in my mind, but will they fit with hers? She gives us control of the story, and I'm already feeling emotionally connected.
Friday, August 21, 1998
Ugh. I've got the whole week to catch up on! Lessee, well, yes, Monday night David and I went over to Mary Anne's for dinner. She made my favorite soup, French Onion with Almonds. The almonds are the most important part; they add a very sophisticated flair to the time-honored soup. Yes, I made Honey Bread, and the only reason it turned out well is because it made a nice base to spoon Jed's Ben and Jerry's Sorbet onto. Really, you don't want the recipe for the Honey Bread. The "secret" to that bread is that you beat it for 20 minutes! My arms were so tired, and it *still* had air pockets and was far too dense for my tastes. I was going to put up my favorite quick bread recipe, Cinnamon Loaf, but David borrowed my 4-H cookbook (baking book, whatever), so he could make Oatmeal Raisin Cookies (his favorite) today. Ironic, since I wanted to put it up so I'd have access to it when I'm over at David's. Oh well.

Tuesday night I went to NIA class at the YMCA with a friend from work, Jenna. NIA is this sort of new-fangled yoga/ethnic dance/aerobics thing. FUN. I almost didn't go, but I'm glad I did, even if my knee was actively painful all day on Wednesday. The aerobic part is rather dancey and flowy, then the instructor builds up your energy until she lets you release it by dancing around the studio. Really fun. Especially in Berkeley, where you really can't feel weird dancing full-out when everyone else is too. I was pleased that I made it through the whole class. My knees and ankles and whole poor body were complaining all the next day, but it was so nice to dance again. Jenna said the Thursday class was hard to get through, but I missed it (Star Trek DS9 Night). I'll probably miss next Tuesday as well, since Mary Anne is reading that night just down the street.

Wednesday. Ian, his coworker, Tony, and I all drove up to Jupiter's in Berkeley to see What it is an R&B band that another coworker (oh, dear, don't remember his name) plays guitar for. Another fun night. Not that I generally like R&B, it's just that it has been far too long since I've gone out and hung out with friends and had beer and listened to music. Tony was very sociable and fun, and I instantly felt I'd known him quite a while. Ian is always sociable, generally fun and upbeat. Sometimes I'm too tired to keep up his pace, but that night I was relaxed and thoroughly enjoying myself. I pulled Ian and Tony up to dance during the last song, and it felt great, partially because my muscles were sore and needed to be stretched out after NIA, but mainly because I got to dance full-out again. It reminds me of the first night I really hung out with Ian last year at Faire. We went to the Disco party, and I was very impressed that he would dance unselfconsciously. It's just such a rare and beautiful thing when a man will let it all go and dance. Ian is one of those men.

Thursday? Deep Space 9 Night at David's. Three damn hours of it. Oh, I love Star Trek, don't get me wrong. It's just, well, I didn't really get to talk to David too much. I sorta miss those days when no one I was close to had a TV. And he doesn't even have a VCR, so I don't even get to watch movies with him.

Movies! That reminds me. Sunday, David and I went to see Saving Private Ryan. Yes, the beginning is so violent that you're desensitized to the rest of the movie. Seriously, I cried through almost the entire first battle scene. It just seemed so, pointless. War. What a stupid way to resolve a conflict: sending your young men off to shoot and be shot at by your enemy's young men. Sorry, but it just seems like we've gotten too big for our britches. Violence shouldn't be so organized.
I know. I'm not really saying anything but, Why can't we all just get along?

Today? Oh, well, today I spent hours in the doctor's office. The rest of the day sucked as well. Soooo, I went shopping. Had to. Shopping Therapy, designed by my dear friend and best roomie ever, Kellie, even before she obtained her Psych degree. (I should also put up her hit single, "My Tummy Hurts", a guitar tune that *anyone* can play . . . ) Ahem. Anyway, it was too late to buy clothes at Ross (which is where I stopped), so I got myself some nice new white sheets (with eyelet trim), a new hunter green towel and a big goose down queen-sized pillow. Ahhhh. I'm a huge advocate of personal comfort. One can never, ever, have too many pillows. The white sheets remind me of the fresh, crisp style of my old friend April May.

So, I should go practice my guitar. I should also write. I'm long overdue on a column I'm cowriting for Clean Sheets. I'm also kicking around some cool ideas for a hypertext story. I need to get cracking. As usual.
Monday, August 24, 1998
So, last night I went over to the "house" to meet with Ian and Elle, along with Dan, Scott, Carol, Jodi and Shannon to practice putting together our pavilion for Burning Man. I don't know who exactly gets credit for this very cool (almost) geometric dome that will be our shelter in the desert, but from what I understand, it was Ian's idea initially, with finer details (and work/know-how) added by Dan and especially Elle. We had to drive to Mills College to have room to put up the yurt-like structure. It's a hexagon, with each side measuring 10 feet. There's a wall of triangles above that, then a peak of triangles above that to make our roof. It's hella roomy, and the tents will fit up against the sides nicely, so we'll all have our private rooms off of this huge common space. We need the common space, too, as there's gonna be Ian, Elle, Scott, Dan, Judy, Carol, Jodi, Shannon, Melanie (whom I've not met yet) and me. The main bars are made with hollow metal tubing, held together with airplane cable. Over that is rather ingeniously fitted a parachute. Unfortunately, the thin nylon of the chute doesn't really do all that much to keep off the sun, which is a major concern of mine, being very pale and being in the alkaloid flats of the Nevada desert for 4-5 days without any natural shade around. There's talk of dyeing it blue, although Elle says the dye one would use to dye nylon is very messy and very toxic. I generally believe Elle in such matters. Personally, I think we should lie the chute out in the back yard and just paint flat sections of it blue. Maybe make some nice pictures or, better yet, swirly patterns. Dunno. There's also talk of hanging up blankets and dark sheets inside to help make more shade. The floor will be covered in tarps, then rugs and blankets and pillows. I'm very excited; it will be a very good space to hang out in.

I can't begin to tell you how much I need this. To get away. To hang out in a very, very large group of people. To have my friends gathered near, but to have my own little tent to run off to. To be able to lie around all day, idly socializing with people I know. To be able to get up and wander through a gypsy-like camp (large enough to be a city, and without trees, but we'll ignore that for now). To see cool things, do cool things. I know, I'm vague. But, well, I used to do all this stuff at Lothlorien (in the woods), but I've not been able to achieve festival states out here. Always busy. No one to go with. Now I have the chance to go, hang out, idle and party, but I'm not sure at all how it's going to be. I don't know that I'm a desert person. That's the whole point of Burning Man, though. If they had it in the mountains, everyone would be there. Out there, you have to survive. Ahhh. I wish I could go the entire week.

Now, I just need to figure out if they're going to give me the time off work to do this or not.

After putting up and taking down the pavilion, we went back and had a delicious spaghetti dinner, with spinach salad and garlic bread. Yum. El broke out some coloring books and silly little fast food toys to play with after dinner. We colored and played for quite some time. Jodi tried on my hat (a great green floppy hat with a purple flower), which led to others trying on my hats, which led to El and Mary Anne breaking out all their hats and everyone putting one on. David looked *quite* dapper in a white top hat and cane. Carol's sleek cheekbones proved universal, as every hat seemed to look amazing on her. And Mary Anne looked so hot in her little black leather biker hat I couldn't look directly at her.

From there, we somehow decided that Ian should be wearing a skirt. So, six or so women held him down (yeah, he hated that, right) and we pulled one of El's nice flowy skirts on him. Very cute, especially if we put the green floppy hat back on him.

People came and went, and David and I didn't end up leaving until 11pm or so. I was rather warmed by getting to hang out at the house with a large group of friends again. It's been awhile since I've gotten to do that so spontaneously.

There's other, not so happy stuff too. Isn't there always? I'm not sure what to do. I'm looking forward to so much right now, but the present just seems like a time where I can't do anything quite *right*. I keep stepping in it, and I certainly don't mean to. At this point it seems like "it" is all around me, and no matter where I step, I'm gonna be covered in it anyway. How does one get out of that cycle??

Tomorrow night, Mary Anne is reading at Barnes and Noble on Shattuck in Berkeley. At 7:30, I believe. I'm trying to work it so that she and I and David can do dinner in Berkeley ahead of time (since I work down the street and will have an hour and a half to kill). I love hearing erotica read out loud in regular bookstores. Now, I just have to get published so I can *read*, too.

What happened to May?
You do remember May, don't you?
The world was blooming then,
washed clean of city stench
scent of blossoms
in our hair.
I can't forget the tang
of rainwater. Of the
image of us
in dew-soaked grass,
your small hand in mine,
and though we never did,
I remember us running
hand in hand
bare feet shining
squeaking in
imagined meadows.

What happened to May?
I was delirious with freedom,
days spent with you, no
real planning, no structure.
I was inspired, near you,
sipping cafe drinks and
typing feverishly away.
I wrote about the distant
past and near
future; your approval
as sweet as berries,
taste staining my lips
and tongue,
juice running down my chin.

Where were we, in May?
Distant voices crackling
and teasing
over wires.
We went to readings
and movies, and we came
back to our common space.
I was so scared, in May,
but nothing seemed to
matter then, in the
tangle of sheets, each to
her own side. I imagined
he watched us, you and I,
a force of our own.

I miss our May,
I don't know
when August snuck up
smacked us with his
unkind heat. I don't
know where the months
went or how we got here.
I know it is
unfortunate
that we meet each other so
now, having known
one another so very kindly
then.

Heather Shaw
August 24, 1998

Put up some more photos. Many are from the Mendecino camping vacation I went on with David last month.
Thursday, August 27, 1998
I had such a fabulous time last night. After a quick workout at the Y, Jenna and I headed down to the Starry Plough for the East Bay Poetry Slam last night. There we were met by Byron (also a poet who works with us, though he didn't read last night), then David and Mary Anne. We had a cozy little table in the back (mainly because Jenna and I were *starving* and wanted a place to wolf down garden burgers). Mary Anne, who didn't read, was one of the judges.

Well, I didn't have to read first, which was a relief as I was very, very nervous. Why? Well, I'd invited all these people to the Slam hoping that some would show up . . . and they all did. It's a warm, fuzzy feeling, being able to collect such a lovely group of friends. Jenna and I were ploughing (heh) through our pitchers, but I was still mostly sober when I went up to read Underwire Boyfriend. It's a noisy bar, and the regulars don't seem to have much taste for poetry, but the audience (not the regulars) seemed to like it. I think it scored a 27.something or other, with a 10 from Mary Anne (which was the high score and was thus thrown out). It also stirred a few jokes about my breasts, which is not surprising, given the material.

I was pleased by the score. I had practiced that poem over and over the night before (usually I forget to practice and read my stuff cold), and it carried me through my shakiness. However, there was extra time, so Charles (the very charming, sweet host) decided we should do a second round.

Ahrrrrgggghhhh!! Dammit. I had only brought the one poem.

So I dug out my private journal (which is almost *always* with me) and flipped through to see if there was the beginning of a poem somewhere I could use. To my relief, I found Berkeley is Soft (which here is called The poem I wrote for you last night if you follow the above link) in its entirety. I paced on the sidewalk outside, reading it over and over . . . thank goodness I was too tipsy at this point to care if I looked crazy or not.

The stage seemed higher up the second time, and the crowd was definitely louder. I snuggled up to the mike, warned them it was a fragile poem, then read it steadily through. I like that poem a lot; I was glad David got to hear me read it (he doesn't like being read to generally). It scored a 25ish. And I won the Slam. My first win out here. And lunch money for the rest of the week.

I was really far too drunk at this point. I was in such a damn good mood that I forgot to get up from my table and thank Charles. I don't think I moved until we left the bar. We took Jenna back to her apartment, and hung out with her and her boyfriend, Chris. Huzzah for new friends! David played Chris' guitar and the rest of chatted about . . . about writing, about books? I remember laughing, talking and drinking lots of water (which David brought me, sweet thing). I remember taking off my heels and putting my trusty Birks back on. I remember feeling very warm inside.

This morning I woke at 6:50am. Ugh. I've been getting up at 7:20 these days for no good reason, and I really don't want it to keep getting earlier. Although I sometimes get stuff done (like my journal entries). Thankfully, I think I drank enough water last night, as after the ibuprofen kicked in my head is almost ok. Almost. I wish I didn't have to get dressed and go to work today. I hope it's mellow.
Sunday, August 30, 1998
Ah, last night was yet another night of revelry with new friends! David and I went with Jenna and Chris to the Berkeley Blues Festival. (My apologies for not having the band names in this entry. I'll try to look them up and put them up later). The first band we saw wasn't too good. That was ok, since most of our time was spent waiting in lines, either for beer or for the toilet. I reaped the rewards of karma when a college-age guy recognized me as "the Homefinders girl!" and insisted I join him in line, near the front. I expressed concern over cutting in line and he said, "No! You're with me!" and put his arm around me in drunken camaraderie. I *did* talk to him for over a half and hour when he was in, and he had (luckily) found a place and was feeling good about himself. (As he should, in this market). Anyhow, I bought only one beer, as they wanted to see for whom you were buying each beer. Damn.

Jenna and I went out and danced in front of the band once they brought up a guest singer. This woman was fabulous; she sang with gusto and tons of personality, strutting the stage in her shades, feather boa and long, slit skirt. She sang "Sweet Home Chicago" and I swear I teared up as I boogied. Jenna's from the Midwest too, and I felt we were sort of linked to the song because of our upbringings. ('Sides, I was *born* in Chicago). It was so damn good to have a friend to dance with again (I miss you, Shel). Chris and David seemed to get along as well (both being very intelligent, somewhat quiet boys), so I didn't feel too bad everytime Jenna and I ran off on some errand (dance, beer, pee, dance, beer, pee etc.). We all ate at La Cascada's (best burritos I've ever had), and stayed through half the last band, which was much, much better than the first. Jenna and I danced quite a bit, but eventually we wearied and we all went back to their apartment to relax.

We watched "A Close Shave", which is by far my favorite Wallace and Grommit animation. I was the only one to have seen it before, and it'd been awhile and I found myself laughing as if I'd never seen it before. Afterwards, I asked if they knew how to play hearts, which got us talking about cards. We soon realized we all (save David) knew how to play Euchre. Oh ho hoh! I *love* Euchre, but it seems to be a Midwestern game as no one out here (or from the East Coast, as is David's case) knows how to play it. Luckily, David's a smart guy, and we quickly had him briefed on the joys of the game. I partnered with him, and of course we lost as there are quite a few rules and tricks to playing the game. But he's going to be a fabulous player soon.

Teaching the game, we realized just how Midwestern the terminology is. "In the Barn" is what you are when you're only one point away from winning. The cards that are turned down are the "Kitty". I suppose the "Right and Left Bowers" aren't necessarily Midwestern . . .
ANYWAY, it was good to play. I really like Jenna and Chris, and I find them both very easy to talk to. I said to Jenna that I wondered how much of it was that we're all from the Midwest. She didn't think it was that so much (as we both know people in the Midwest we *don't* like), as it was that we just have a lot in common. True. But I've met many, many people out here that I have tons in common with, but I've not been so instantly bonded with them. Perhaps this is due to the fact that people out here already *have* their groups of friends set, and I've been welcome into those pre-existing groups. With Jenna and Chris, I feel I'm a central part of the camaraderie. We're all new to one another but I, for one, certainly need their friendship. There's also the pure joy of doing something *as* a couple with another couple. David and I have been together longer than I've been with anyone. Much of my time in Franklin was spent as a single person hanging out with groups of couples. It is a very warm feeling to be included. I suppose that's what I'm trying to get across here. I feel I am a central part of this. Yay for new friends!

Today I must figure out where I'm going to get the money to go to Burning Man. I didn't budget for this correctly. This whole past week has been a blur of activity, which, while joyous, has been distracting. I spent too much money while socializing. Sigh. And, when I get back from Burning Man, Rob and Ryan (friends from college) will be visiting. And then there's a party Saturday . . .

Be careful what you wish for. You just might get it.

Oh, I take that back. I love how busy I am right now.
Monday, August 31, 1998
Y'know, I have these settings in my dreams. Lately I've been having this rather awful new setting. I'm walking through Oakland, straight down a main road. The road starts out ok, but then it gets more and more decrepit until I'm walking past shady characters and menacing faces. I can feel my shoulders stiffen with fear as I wander further and further down this road, until I'm past so many that to turn back would admit my fear, thus making me an easy target (I smell like prey).
So, I turn. Right. I always go right. I think there's the Bay to my Left somewhere, so I must be walking North. I reason (in my dream) that I'll just go over a few blocks until the neighborhood gets nicer, turn right again, and head back. It's always just getting dark when I turn.
But the streets aren't in the grid I expect. They curve and twist. For some reason, I decide to go inside. I enter a huge, rather empty stadium. I can hear the cheers from some event echoing down the long, empty corridors, but I turn, and walk and never can find it. I open big, heavy metal doors and walk down dimly lit cement block hallways until I can hear my blood pumping in my ears louder than any other noise. I'm stuck inside, which is somehow much, much worse than outside by now, for a very long time. Finally, one of the big metal doors dumps me outside, right in front of a chain-link fence with those wooden slats through it. I have to figure out how to climb it. On the other side is a surprisingly nice yard, and house. The house is open, with TV sounds coming out of it and all the lights on. I knock, but no one answers. On the really terrible nights I go inside. There's never anyone there, just the TV blaring away under the burning lights. Now, if I go outside, I walk through street after street of empty houses that look as if everyone has just abandoned them. But I can no longer journey straight down the streets, and I find myself zig-zagging through yards, even through houses, for hours and hours . . .

Today, my mom wrote me this really sad letter. It made me realize that many of the (nicer, more organic) recurring settings from my dreams are from my childhood. Southport Indiana is the suburb of Indianapolis where I lived from age 4-18. When we first moved there, there was still quite a bit of farmland around. I have an exceptionally good memory from my childhood (I can still vividly remember things that happened when I was 2), especially, I think, of settings. Down at the corner of our street (which was a major intersection of 2 rather large streets) there used to be this old house with lots of trees and flowers in the yard. A very old black man lived there, alone, I think. There really aren't too many non-white people in that area, especially 20 years ago when this happened. I admit, my memory is vague. But I think I visit there every so often when I dream. After the old man died, right before the city tore it down to make it into an office strip mall, my mom went down there and dug up some daylilies that the old gentleman had tended. They're still growing in our garden. Mom's garden.

Now, across the street is a grand old farmhouse that's been there forever, it seems. It's an eyesore from the outside, but I've always admired the wrap-around porch and the outside stairs leading up to the second floor of the same porch. Really neat architecture. And the trees! Well, let's just say that it was a kid's dream, all the neat trees and bushes and places to make hide-aways and club houses. Anyhow, I want to include the part of Mom's letter that tells the recent fate of this house:

Well, let's see yesterday on the way to Meijer I stopped at the old 1870 farmhouse on the east side of Sherman drive just before you get to Southport. I am very bothered by the fact that the fire dept. is going to burn it down as soon as everyone is finished stripping all the goodies (unpainted woodwork, siding, windows, new as well as old ones with wavy glass, barn wood, red oak floors, staircases, etc.) off of it which they bought at auction a week ago last Thursday. The house is very solid and square...the stairs don't squeak, it doesn't lean...it was very well built and should have lasted another 100 years, but no, the heirs would rather have the 3 million dollars they got for the property than refurbish and live in an old house which I think would have made a nice bed and breakfast place...goood location for it too.(Heather's note: She's right, it would. It's right off highway 65, about 15 minutes away from downtown Indy). Now, the trees (which didn't get sold for lumber...they tried)....big, old trees...numerous trees....will all be cut down and we will have yet another sterile, apartment complex. Sigh! I walked all through the house feeling very melancholy as the previous owner had taken care of the inside and was in process of installing a new bathroom on 2nd floor. The outside always looked like crap, but they had fixed the porches. There was junk all over...a box of unopened spaghetti on the kitchen floor, a jar of Prego on the shelf, potholders still on their hooks on the kitchen wall....Curtains on the floor....appeared that drawers had been emptied onto the floors. Furniture was auctioned. On the floor of an upstairs bedroom I picked up a receipt from the Farmer's Co-Operative Co. of Southport dated 1945 for chicken feed to Clyde Gray, a 1957 withholding tax statement from Indpls Stockyards for Clyde Gray, and a Xmas tag with twine attached to Mrs. Shortridge from Ethel Gray. Three ladies there who had been at the auction said Gray Road was named after them. I also pulled up a fern and took it home and planted it in my old-timers "memory" garden. You know I have the old black man's daylilies (from corner of Sherman and Southport).

Now you all know from whom I got my sentimental, soft side.