Welcome to the Nid

Lady Godiva1898
by Hon. John Collier (1850-1934)
What is the Nid? Well, ever since I read Zylpha Keatley Snyder's Below the Root Trilogy in 6th grade, I've adopted the use of the "Nid" to refer to a sleeping place, someplace soothing where you can get away from the outside world. However, I like the word so much, I've decided to adopt it to mean my world. Or at least the world I turn to to escape.
Reading Lists
Philosophical Questions
Friends
People with pages of their own
Online Diaries & Journals
Other Cool Pages
Clean Sheets - a fresh new erotica ezine with fiction, poetry, articles and reviews; new material every Wednesday!
jef'n'gael - stories and cool graphics
Cocodrillo - the web version of "a semi-regular rag of trash poetry distributed in and around the New York area for free"
Literature
Magickal Mushrooms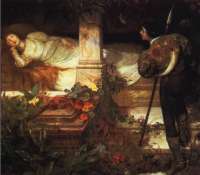 Sleepers since March 25, 1998
Back to the top