Wednesday, December 4th, 2002 - Jello (ask your server for today's flavors)
So, last night Tim and I took this year's holiday chapbook to Kinko's. We're both really excited about Floodwater; it looks great this year, with snazzier layout due to Tim's increasing desktop publishing skillz, not to mention amazing artwork by my friend Richard. I mean, I did my best last year, but I'm perfectly fine with agreeing with Tim that "illustrating is not one of my many talents." Having a real artist provide artwork adds a whole new level of elegance to the chapbook, and I can hardly wait to send it out to family and friends. We're doing a limited run of 150 copies, and god willing and the creek don't rise, they'll be available starting this weekend. Whoo!

Oh, for those of you who are curious, here's a slightly blurry picture of our engagement ring. It's a sapphire set in white gold. I still can't stop looking at it. I love it, especially what it symbolizes. Loveliness.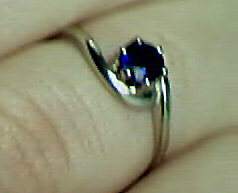 Holly is rounder and rounder. She's still doing really well, but the baby's head has dropped and it's just a matter of waiting for her to pop. It's a very surreal time, actually. Any day now that round tummy will turn into a live, tiny, seperate human being. Who will live in our house. I'm very excited, yes, but also a bit frightened, I have to admit. I hope that's a healthy way to feel. I know I'm going to love my nephew madly, and yet I haven't even met him yet.
I'm feeling all over the place tonight, so I'm not sure how much longer I'll write here . . .
I've been working on Xmas gift projects the past few nights, so I haven't had as much time to write. Tim's feeling a bit lost now that his book is done, which means we spend more time together too. Oh! That reminds me that I didn't talk about reading Rangergirl! I read Tim's book, The Strange Adventures of Rangergirl over Thanksgiving weekend, and I loved it! I think it holds together better than his earlier novels (ok, the 1.5 of them I've read; Tim's written 5.5 novels overall) and the characters are really interesting -- I really identified with the protagonist and I wanted to hang out with her and her friends. He does some really nice things with relationships, and there's lots of cool shit (which I enjoyed despite it being mostly a Western, me not generally liking Westerns) and groovy magic. And it's set in Santa Cruz, which I love. Overall, I think it's good. I think he's going to sell this one.
Yes, I know I have to love Tim's book, but I think I'd think it's good even if I wasn't in love with him and going to marry him. You hush.
Tim's making new backgrounds and titles for his webpage right now. Where he finds time for this and all the writing he does, I'll never know.
Oh, I shold post this and go to bed. G'night, all.
Exercise Log:
---
Writing log:
---
Current Publications:
In the Shade of You nominated in the long poem category for the Rhysling and will be reprinted in the 2002 Rhysling Anthology!
"How to Suck" reprinted in From Porn to Poetry: Clean Sheets Celebrates the Erotic Mind
---
I've been reading:
Currently Reading:
The Strange Adventures of Rangergirl by Tim Pratt

The Night Watch by Sean Stewart
---
Donate money to my teeth, my grad school application fees, our writerly projects (Floodwater and Flytrap!). Every little bit helps!