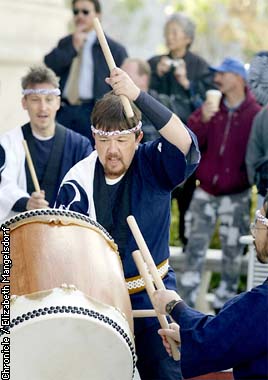 Our History
Tatsumaki Taiko takes their name from the Japanese word for "whirlwind," and literally translated means "spinning dragon." Tatsumaki Taiko evolved from the group "Taiko Spirit." The original group was formed in the spring of 1995. In 1998, the group was re-formed as Tatsumaki Taiko by Phil Pickering, co-founder of "Taiko Spirit."
Phil's inspiration to play taiko came after seeing "Ondekoza" and "Kodo" two of Japan's most famous taiko groups. His studies have included classes with SF Taiko Dojo, taiko workshops with Marco Lienhard and Riley Lee ("Taikoz," formerly of "Ondekoza") and "Kodo," as well as tutoring from Kawada Taiko of Fukushima, Japan.
Tatsumaki Taiko also performs many original compositions with influences from African, Latin, Jazz, and Rock music. When not making music, we are most likely making taiko. We have made many of our instruments, including traditional taiko & percussion instruments of our own design.
Tatsumaki Taiko performs for many festivals and non-profit events around the Bay Area. Some of our past performances have been for organizations such as "Self Help for the Elderly" the "Breast Cancer Fund," and the "AIDS Walk." We also perform for various other public and private functions.
In addition to performing, we are committed to teaching taiko. We conduct taiko workshops and weekly classes to encourage new students. We are always open to new membership, for those who wish to get in on the fun - please look for our classes and workshops. Or, e-mail us (tatsumaki@email.com).

Return to Tatsumaki Taiko's Homepage
2/14/2004 by akudo3