Sonerai's With Bubble Canopies
By this I mean no turtledeck. Another way to visualize this is the P-51-D version , versus the -B "razorback".
Why would you want to do this? For better visibility, a different look, and the ability to open the canopy in flight.
Disadvantages: more work, less aerodynamic, may reduce yaw stability and dampening, may affect spin resistance.
Anyway, here is the first picture I've been able to find, this is scanned from the "Monink", the original Monnet newsletter, and date from the mid 1980's. Neil is still active in the EAA, he recently wrote an article in Sport Aviation on exhaust systems. Note the added rollover structure between the two cockpits. BigYellow lists his current address thus:
Sidders, Neil C
235 Rowland Rd, Monroe, LA 71203-8502
Phone: (318)343-3885
Neil found me, and had this to say about his airplane:
From: "NEIL  SIDDERS" <n.sidders@worldnet.att.net>
To: <Bredt19-2@idt.net>
Subject: sonerai canopy
Date: Wed, 25 Aug 1999 16:40:40 -0500
 

tear drop canopy had no effect on flight characteristics. I simply liked the way it looked. It did not slide. Used the standard hinge. Spin recovery with the large rudder was less than 1/2 turn after 3 turns. Sold in 1989. Neil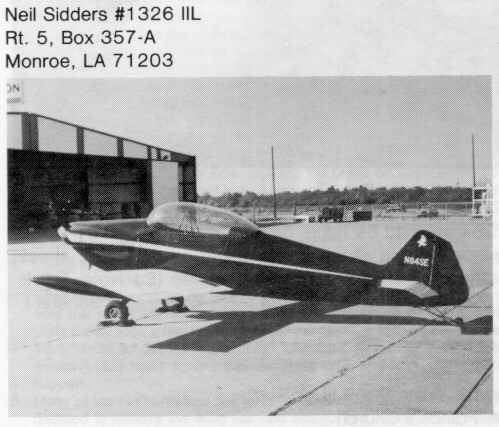 I looked at this airplane, which was for sale, down in Joshua Tree California. I believe it is now in Iowa. My memory fails me on the builder's name, and the new home for this very nice airplane. That is an RV-3 canopy, which only covers the rear seat, this is a Sonerai I-I/2L.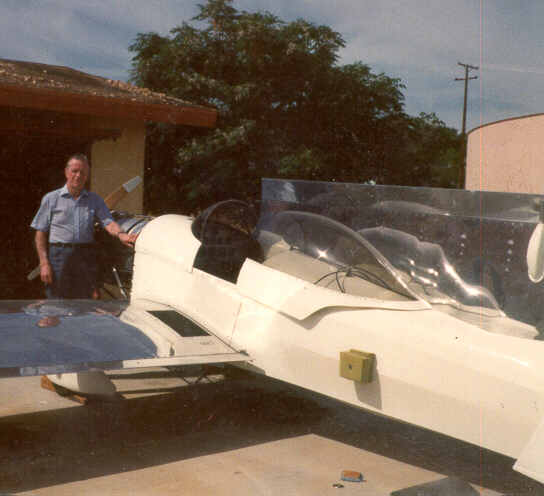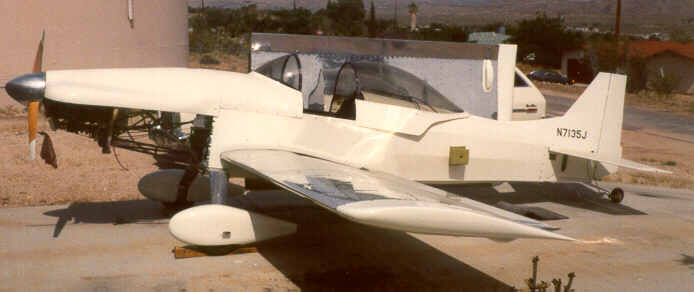 Note the added dorsal fin, and the taller tail. I'm assuming that what rollover protection there is will be provided by the forward canopy bow.
E-mail me
Back to Ryan's Home Page