Dear Diary - April 1998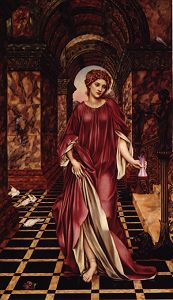 I've decided to keep an ongoing diary/journal online. This is for all my (wired) friends back in Indiana that I don't write enough, and for anyone who really wants to get to know me better. If you're not sure who I'm talking about here, you may find more info under Who's who.
As with the "selected" journal, I'm not putting up anything overly personal up here, so quit skimming for the juicy bits and check out my erotic poetry instead.
Thursday, April 30, 1998
Finished a story today. It has to be postmarked today, of course. Oh, well. Mary Anne assures me that she submits things up to the deadline all the time. I guess those last-minute habits I developed in school have stuck with me. Hey, at least I'm writing.

It's a beautiful day. I'm going to plant my herbs and veggies today, mail off my story, buy some ladybugs, swim, and hopefully walk in a park. Dinner and Ursula LeGuin with Mary Anne tonight. Ah. I'm certainly enjoying having full days. I'm trying to get my mental space cleared up before jumping into another job. My new idea is to try to work up to a managerial position in a bookstore. It sounds lovely, too bad it's so hard to get those jobs!

Think good thoughts for Mary Anne today. Trust me. Just send good vibes her way.
Wednesday, April 29, 1998
I'm sitting in Mary Anne's backyard, typing away at a story for an anthology for which the deadline is tomorrow. She's letting me borrow her laptop for the afternoon it seems; we spent the afternoon in a very sweet little coffee shop nearby; she commented on papers while I typed away.

Just now I watched a squirrel run up a limb and out to a swinging branch, before it jumped down on top of the gazebo. It leapt from there to another branch, one of those thin ones that actually support just the leaves, and scurried up to the main part of the trees. It was deft and quick, its tail flicking both to keep its balance and to punctuate its pauses.
It made me think of a time back in college when I was still in a sorority (yes, a little evil secret from my past for you there). Ruth was having the pledges do this little exercise, and I did it with them, as I was music leader or some such thing where I was partially responsible for the education of the pledge class. It was a story, where you're walking through the woods and you come upon a building of some sort, an animal of some sort etc. You picked the building, the animal and other things to fill in your part of the story. Then we went back through and Ruth told us what each of these things symbolized. I only remember the animal, because it caused me some disappointment at the time. I usually choose a cat, when asked for my favorite animal, and I almost did during this exercise too. But I wanted to be more creative and original, so I picked a squirrel, a "true Franklin College squirrel" because we had tons of them on our campus (they occasionally barked at students). The animal represented how we viewed ourselves. I was upset because it was chic to hate our school (there was a lot to be disgruntled about, but it may also have been the age I was -- anything that was established must naturally be bad).
So when I saw that squirrel just now, so freely climbing up where it looks impossible to go, I was reminded of how dismal I thought squirrel symbols were. And how free he seems right now. I'd like to focus on this, make it mine. Let me think, what have I done recently that seemed impossible to do? Moved out here, for one thing. Published a story? There are a lot of things I am doing or am involved with out here that I never thought or even imagined I'd be doing. For example, I went to a Bardic circle at Greyhaven with Mary Anne last month. I've gone to readings before, but never one so *good*. The authors there were not only fabulous story tellers, but they were entertaining as well. And encouraging.

That's one thing I'm truly thankful for out here: the encouragement I get on my writing. Mary Anne (not to gush all over her too much, but I'm afraid it's inevitable, seeing how cool she is) has almost taken me under her wing. Ok, I *feel* taken in by her (in more ways than one). She's a role model; she is a semi-professional writer with her own following, yet she's taken a lot of time and energy to encourage me in my efforts. Sometimes I feel guilty on how little I've followed up on her advice and help, yet I still eagerly accept all that she offers me. She also has helped take me in, and it was mostly through her that I have my circle of friends out here; she called me and dragged me off to parties to make sure I wouldn't "disappear" after Ian broke up with me. I admire her social skills, how she balances a huge group of friends and how she throws magnificent parties every two months. She's put herself through grad school, manages all sorts of things like writing workshops, editing her book, writing freelance material, contacting publishers. Networking falls short of describing everything she can accomplish by simply knowing people. Ach. I gush, I gush. Here I was trying to list everything I've done, and I list everything I admire about Mary Anne. I suppose that's what friends are for: accessible role models.

Had a good women's chat with Dawn and Mary Anne this afternoon. It made me realize how many of my friends out here are men, and how much I miss the support of my solid female friends back in Indiana. Shel, Kellie, Holly . . . *sigh* I should make an effort to hang out with women more often out here. Women just seem harder to meet, for some reason.

Tomorrow night Mary Anne and I are going to hear Ursula K. LeGuin speak in Berkeley. I'm very excited; I believe this only compares to when a group of us went to see Tom Wolfe speak in Bloomington Indiana a few years back. This should be better, though, since it's in a bookstore and might be more intimate. I've only read one of her books so far, but I was terribly impressed. I love living in this area

What else? I'm rambling in my journal now. Talked to David tonight for a nice long time. He's got a lot on his mind for being on vacation! I'm sure it will calm down when he actually gets to the Caribbean (he's still in New York); unfortunately, he won't be reachable for even a phone chat down there - ack! withdrawal! *sigh* I just miss him; I'm sure I'll live, I know.
Ok, ok, goodnight now. Sweet dreams darlings.
Tuesday, April 28, 1998
Speaking of phone calls, I just spent two entire hours on the phone with Kellie, my old roomie from Franklin. Oh! It was so wonderful, to talk to her and catch up on all the Franklin gossip! I actually felt as if I was in Franklin again, dealing with all of those issues and problems . . . nicer than what I have to deal with out here, that's for sure! There's something to be said for a small town with a teeny tiny college -- at least you can *do* something! At least you matter, or if you don't, they have to pretend like you do! Anyway, Kellie sounds like fresh peaches in August right now. She just got her first real job, at a temp agency! Oh, my. We had a good laugh about that. But she's working *at* the temp agency, not for it, and the company's growing and it sounds like a good position for her. She's also playing Helen of Troy in the FC production of Orestes; the face that launched a thousand ships and I think Kellie's the only person I know that could pull that one off! Anyhow, she's doing well, and I was glad to get to talk to her.

Well, my email isn't working properly yet, so if any of you want to write me, write to gryffn@yahoo.com until further notice. Mary Anne mentioned (on my answering machine -- my life is my answering machine these days) an intriguing email she sent earlier this week, and I'm dying to read it and haven't been able to yet! Rrgh. I'll have to try and get her on the phone before Thursday. And I thought scheduling would be easier with David gone! Hah.

Oh, I almost forgot. Last night Todd and I went to see Scream 2 and it was really entertaining! I thought it was much better than the original. A self-referential, post-modern, hip-and-now movie that both makes fun of and is a bad horror flick. The mystery is much better this time around, as the surprise ending can possibly be guessed, though it's not likely. I wasn't even scared (ok, I screamed several times) to go home afterwards.
Monday, April 27, 1998
Distance make the heart grow fonder (and realize how much we rely on special people to help ease us over the bumps in life).
Gods, I miss David. I'll put up the poem I scribbled after dropping him off at the airport yesterday on the "Publicly a Muse" poetry page.
Sigh.

Helped Todd move yesterday. David's hatchback came in *very* useful, as we wouldn't have been able to move Todd's furniture otherwise. And I'm now quite the pro at the stick shift, even if I still tense up if I have to stop on a hill. Still, I forgot what it's like to have to drive a lot. I'd never driven out here, and I'll tell you, it's a madhouse. Driving down the street looks like a video game, with a bicycle on your right, an in-line skater on the left, people crossing and idiots pulling out in front of you. Thank god I'm a good driver.

I'm going to try and swim every day until I get a new job. I need to feel better about myself, and I'm sure that would help. I'm going for a waiting job, I think. Or Good Vibrations, where it would be a blast to work. I don't think I mold to corporate environments very well, and I agree with David, I should take it as a compliment.
I also need to write every day until I get a job. Finally time to put all those ideas on paper!!


BTW, I've put up poetry by Holly and Craig. Give 'em a read if you have a chance!
Friday, April 24, 1998
TGIF! It's significantly cooler in the city than in the East Bay today. Some days it's warmer, some days it's the same. I had a good talk with my roomies last night. Sharon and I discussed the idea that there is "one true love" for everybody. She thinks there is. I realized, with a start, that I'm not sure about that anymore. I used to believe that fervently; I was certain I had a soul mate out there and that I would find him before the end of my twenties, we would fall instantly in love, get married, the whole bit. I assumed I still thought the same way (helped, no doubt, by my need to defend myself against Todd's constant scoffing cynicism on any love-related topic). I'm trying to figure out what happened to this idea, and why am I not so blissfully, optimistically certain any longer?
I could blame it on age, but I don't like to think optimism fades as we grow older. I rather think it's the move to California; it's shocking to move from Indiana to the Bay Area and realize how many people there are in the world. I see different people, new strangers, every day. How on earth am I going to shuffle through all of them and find THE ONE??
I've been marveling lately at the random series of event that shape our lives. For example: if Todd's friend, Dan, hadn't chosen to go to Cornell for undergrad, he probably wouldn't have gone to Berkeley for grad school. But he did. Then Todd moved out here with him, I came to visit on a spring break and decided this was where I was moving after college. I put an ad on Yahoo! personals to meet people in the Bay Area, met Kevin, who dragged me to Faire. At Faire last fall I met Ian, who introduced me to his roommates, Cliff and Mary Anne. Mary Anne introduced me to David. I would have never met this circle of friends if Dan had decided to go to, say, IU. How odd.
Back to "THE ONE" topic: I have had to deal with new ideas out here. Certainly, people I knew in Indiana practiced such ideas as polyamory (more than one love), but I never dealt with it directly. Out here I've found myself in this situation more than once. I'm inclined to say that I think the people out here are generally more mature and ready to deal with all the complications polyamory presents, but since I never dealt with it personally before, perhaps that goes without saying. Still, the whole concept of poly raises some questions, the big one being, if you're poly, how can there be THE ONE? THE FEW? THE MANY? THE ONE and the little ones? I dunno. It's the same fear I had as a child and will have from the other side as a parent someday: Whom do you love more? How do I love equally? I'm such a jealous person that I think dealing with this is good for me; learn to share, learn to deal with irrational emotions, learn to balance (learn to schedule).
But all this is for right now. I have no idea if I'm going to continue poly from now on. Some days I think I will; I imagine a big happy family, where everyone cares for everyone else's kids and the many viewpoints balance everything out. Our house will be a huge Victorian farm house on acres and acres of land, and we'll be famous for having so many talented artists in one setting and school kids will grumble about having to write essays on us while college kids compete for our internships.
Other days I think NO! I want my house with one other person, my space and his space becoming our space. Where our kids only know one mommy and one daddy and their aunts and uncles come visit often. A house with one large study where we can work together. A house where it's quiet at night, and we can sit entwined on the sofa and read. Something cozy like that.
And then there are the days when I know I won't end up in either. Those are the days I imagine traveling for years, coming back to settle alone in my own ecologically sound home that I built myself (heh). I imagine having lovers, and having children that I'll raise on my own. In this fantasy I am already wealthy from the zillions of travel/erotic/etc. novels that I've written, and I have a thrilling social life in the evenings and quiet, long days in which to write more.
These are all my fantasies, you understand. We cannot know the future (thank goddess).
Thursday, April 23, 1998
I had almost finished today's entry when my finger slipped on this damn Windows 95 keyboard and the combination wiped out my entire entry.

Had a lovely evening with David last night. Ed, who was supposed to come over to jam (they both play guitar) canceled, but I did my "keep myself occupied while they play" chore (laundry) anyway. David's apartment is almost like home, so I think I'll do my laundry there from now on. I hate laundry mats.
David and I spent some time surfing sites that I'm not allowed to go to at work. (On a 28.8 modem, it's a bit more tedious than my T-3 line at work). There's a phenomenon on the web: web cams. Women (men too, though they're not as popular) have a little on-line camera that films their daily activities. We spent some time at the top-rated site (according to Yahoo!), Aja-cam. Aja, who is admittedly very beautiful, charges $19.95 a month for a membership that'll give you a new picture every 30 seconds. The "guest-cam" reloads every 5 minutes; David and I got to see Aja flicking the ashes off her cigarette (she's a dancer and she *smokes*!?) and waited 5 minutes to see Aja working on her computer. Whoo-hoo! Oh, baby.
Still, she must be making a fortune at $20/member/month -- especially being rated #1 in Yahoo!. It brings us into a whole new category of "questionable activities"; a new cousin to stripping for a living. I wonder what it's like, living under the eye of possibly thousands of people every day. When I was a kid, I used to think that's what soap-operas were, a live camera filming people's lives. Huh, what a good story idea, cam-life. Don't worry, mom, I can't afford a cam for "research" on that story. 'Sides, I'm not really home enough!

I just had the weirdest call. This guy had two accounts open, which happens sometimes here. But he didn't remember opening the second account at all. After a few minutes of discussing which account to cancel, his personality switched and he started talking about the *other* account. He'd been using both accounts - back and forth - and I realized that this guy was probably suffering from a multiple personality disorder. He had no memory from one to the other, and I found myself repeating things I had just said a few minutes ago. I finally just picked the best account to cancel, made a note in his case about my suspicions as to his mental state, and got him off the phone. It was scary, talking to him. Am I living in California yet?

David is leaving for two weeks on Sunday. He's going to Princeton to support his friend Fran during her PhD Defense, then he's off on his annual family vacation: scuba diving in the Caribbean. I know. It must be nice.
Jasmine, his kitty, is pretty much like all female cats: a little standoffish, but cute as all get-out. She's getting used to me, and I think we'll be good friends after I care for her for two weeks. She's used to eating at 5pm, and I won't be getting home until 8pm . . . I guess she'll just have to get over that.
David let me drive his car around the block last night. I was pleased that it wasn't like learning a stick for the first time -- I didn't stall or jerk the car at all. David wasn't as impressed as I wanted him to be, but oh well. He's right, the big test will be driving on these hills! Central Indiana (where I'm from) is completely flat.

Mom *and* David complained about me calling myself a "kid" in yesterday's entry, even though I'm 25 years old. I was just trying to make clear the difference in ages at that party, and I defaulted to the simplest distinction. I *am* an adult -- I pay my own bills etc. I just consider myself young.
Wednesday, April 22, 1998
This morning I felt the world was a little nicer.
On my way to work, I sometimes, rarely really, stop at this little coffee shop called CHATZ. This morning, as I stopped there for a quick bagel and morning mocha, I realized that I left my money in my jeans pockets, in my laundry, at home. I told the nice guy behind the counter (they're all young and nice-looking there, I don't know why I don't stop more often), "Let me make sure I have cash, first", checked, and said, "Nope, well, it's good I checked" and turned to go. The nice red-haired guy (don't you *love* guys with red-hair? I like them because I know they were probably as unpopular growing up as I was, which makes their perspective cool now), said, "You can pay us later, if you want". Pay them LATER??? And he meant it, too! I ordered my bagel and mocha, and he put the $4 tab on the wall, under my name! This on second street in San Francisco; it felt so small pioneer town, having a tab. It made me smile, amazed that people are that trusting in this big, impersonal world. I think it made my day (it definitely made my blood sugar level).

I forgot to mention that yesterday was Todd's birthday!! Whoops! He did his best not to tell anyone, but I'm usually *much* nosier than that. I didn't forget to celebrate it with him, but Happy belated 25th anyway, Todd!
I had a good time last night. Todd and I went to a BQ in someone's backyard. There were 3 adults (2 men and a woman) and 6 kids (me and Rachel were the only girls). There was wine and beer, and the wine was EXPENSIVE and, oh, there's a better word, maybe copious? ALOT of GOOD wine. Bill, who was tall, thin with gray hair and a british accent (just back from Moscow) told a story about riding his moped in Albany, wearing a hardhat, and getting a ticket. We all laughed alot, and it was nice to be so social. Rachel had gone on a strip club tour several years ago, and I got a list of places to check out (research on a story I want to write). We talked about "realdoll.com" where they sell silicone dolls (just like the real thing!) for $5000. It was a nice night, and Todd was happy, since I was grouching about "how long do we have to stay" before we got there.
What else? Ate leftover pizza at Todd's (I got drunk so fast because I thought we were going out to eat; we didn't and I didn't eat until around 10:30pm when we got to Todd's), then stumbled to BART (where I ran into Charles, from work), took a picture of a computer on a trash can, stumbled home (that MacArthur parking lot is very well lit), and went to sleep with my contacts in around midnight. I woke up at 6am (goddamnit). Why am I waking up early? I was so tired last night!

Today:
Well, I just checked Mary Anne's journal and she (finally ;-) mentioned this page! Omigoodness. I really can't get over my good luck in meeting her; I'm honored to be her friend, really. And as a professional contact, well, she's amazingly helpful and completely encouraging (not to mention flattering as all hell). This journal, hell, this whole page would never have happened without her influence. (I'm sure it makes Mom happy, as she doesn't have to keep bugging me to email her on the recent events of my life). Anyhow, thanks for the mention, Mary Anne. I'll make sure to start spell checking my pages.
Tuesday, April 21, 1998
Look out California, I'm licensed to drive!!! Whoo-hoo!
I woke up around 6am this morning, still tense about another stressful evening. I realized recently that I'm pretty depressed these days. Part of me wants to blame April (I always get depressed in April; something about all this beauty underscoring my lethargic lifestyle . . .), but there's some concrete reasons, too. I've suffered several big disappointments lately and sometimes it doesn't feel worth the effort to work things out. It's been hard to remind myself that this is just temporary and things are bound to change.

One thing that I'm thinking about changing is my job. Or my career-path, I should say. There's a good chance I'm going to get technical training soon. Maybe I'll like it, maybe I'm just afraid . . .
I hope no one at work reads this.
So, I was thinking about going back to school and getting my teaching degree. I've got an English degree, which right now is good enough to teach in Oakland, as there is a shortage of teachers. I think they've declared an emergency, so that you can teach while working towards your degree. I should look into taking a class or two this summer, so I can get a job teaching high school English this fall.
Sure, I'm scared. It's hard to leave a job when you've already got one; especially when it's going to be alot of work and a significant pay cut. Plus, I've only substituted in Indiana, which isn't exactly a diverse location. Oakland could be challenging.

To skip back up to the first line of today's entry (hey, it's a diary, not an essay), I woke up at 6am and decided, hey, I might as well go try for my license. I had an appointment on Thursday, but I was afraid I'd have to take the test again and since David is leaving on Sunday, and I have to drive his car/housesit/and take care of Jasmine, his kitty, I thought the sooner the better. (Yes, I know that the previous sentence was a run-on. I want to teach Literature, not Grammar). So I woke up David (who was sleeping so sweetly, *sigh*) and had him drive me to the DMV. I looked like hell (David says, "It's your driver's license, it's supposed to be a bad photo"), but, hey, I only missed 2 (out of 35 or so - I could only miss 5 total)! In CA, they take your picture, give you a piece of paper (an interim license), and mail the real one to you in 4 weeks! Harumph! At least they let me keep my expired Indiana license so I have something to show when I get carded!

My mom asked about the woman under the train (see April 16th entry). Yes, I checked the paper the next day. I checked several, and there was no mention of the accident. This frightened me even more; they announced the delay as due to a "medical emergency", which I hear on BART trains about once every 2 months or so. To think it is so common an occurrence as to not even make the paper!!
Monday, April 20, 1998
Happy 4/20 y'all! All I can say is I envy Todd his new hippie job in Berkeley! And, even though she doesn't have internet access at home (yet?), here's a big HAPPY BIRTHDAY to my dear friend Shel. She's got the coolest birth date I've ever heard of, 4/20/69. I wish she was out here so I could take her out to a good boogie show. I miss you, Shel!
Feeling a bit out of sorts today. I had a rough weekend, and I think there's residual stress.

So, this weekend:
I had Friday off, because I was planning on taking a vacation. That had fallen through, but I decided not to turn down my excused absence. David and I went shopping; I tried to find a chest of drawers, but no luck. David was a fairly good sport: we went to the post office, the cheese shop, St. Vincent dePaul's, the Bread Workshop, a junkyard, Goodwill, Kmart then home. We also stopped off at the first spot I lived out here, which was too creepy for words.
Had Fried Rice for dinner, which was really yummy. I can't tell you how exciting it is when David tries a new recipe. My mom is also a really good cook, but she has such a huge variety of recipes I'm afraid I got a bit spoiled. David has mentioned several times he wants to borrow our family cookbook (which my mom, the eternal librarian, put together a copy for me, my sister and herself). I hope he learns to make vegetarian baskets and stuffed pasta shells (both really tricky recipes I'll never get around to doing myself). How exciting!

Saturday was miserable. David and I had stayed up until 4am the night before, then got up too early on Saturday. I thought some friends had stood me up (misunderstanding) and David's mood left *much* to be desired and things just didn't go well after that. I fell asleep around 10pm, which is terribly early for me.

Sunday was nice. Restful. My friend Joe was down for the weekend, so I went over to the Kidz house (Dan and Elizabeth are the Kidz; Todd and Peter also live there, but Peter wasn't there Sunday). We looked at pictures from the Kidz trip to Europe for awhile. They took some really good shots; they put each other in front of some amazing views, which gave a nice sense of scale.
The Kidz went to look at houses (they're trying to buy in Berkeley, which is a major competition) and Joe, Todd and I sunned ourselves on the back porch. Todd taught Joe tabla sounds (a very tricky instrument to play correctly; Joe's a good drummer, and it was interesting to hear him sound like a beginner again) as I basked in the sun and read My Secret History by Paul Theroux. It was very relaxing, especially after my Saturday.
Went to eat at Picantes, which was yummy. I had rajas tacos. Rajas is a kind of marinated cactus that has a spicy flavor.

I don't know what made me think of this, but I need to start learning Spanish. I'm kicking myself for not taking it more than the one year in high school; it would be *so* useful out here.
Thursday, April 16, 1998
My BART ride home last night was interrupted just shy of West Oakland station. Usually, when there's a problem, the train stays running, but this time they shut down everything, the lights, the constant hum, it all stopped. The conductor told us there was an "emergency under the train". Suddenly, all the strangers on the train started making eye contact. I talk to a man who's taking his young son home to his mother. "She'll never believe this excuse!" We speculate, and all work to calm down the little boy, "It's an adventure!" I claim. Out the window we can look down into a West Oakland neighborhood, where one kid is held by another while a third beats him. Up the street a goat (no, I'm not kidding) grazes in a yard. Someone comments that goats don't often wander too far, and we all watch, amused, until the goat squats by the road and takes a dump.
Finally, we start walking. We have to walk up to the front car, and I, of course, am in the last (so I'm closer to the escalator when I get off the train; my left knee and ankle have been really bothering me lately). As we step off the first car (which was halfway into the station), I hear the sirens, see many cops looking down the side of the car . . . "what's going on?" I ask. "Move on". And then I hear her, crying, screaming in pain from under the car I'd just stepped off of.
I almost threw up. It was all I could do not to burst into tears (I kept it down to "dry sobs") and further upset the little boy. It took me most of the night to calm down.

Ian came over later and we had pasta with Sharon. He took over an hour to look at our wiring, and was very impressed with the LAN that was set up in our house (and suggested we set one up, as the "hard part" is done already). I'm *so* grateful Ian is my friend, as he figured it all out (w/out tearing out our nice wiring, as P*B would have) and connected up my phone line! Whoo-hoo!!! I have a phone line!

It turned out to be a very pleasant evening.

Today:
I walked up to South Park for lunch again today. There's a little italian cafe up there called Cafe Centro that has *delicious* salads, sandwiches and specials. It also can be noted for their incredibly attractive staff. Today, I got a Brie and Pear Salad, which was incredibly yummy. The mixed greens (spinach, lettuce, red lettuce, boston lettuce, dandelion etc) and thinly sliced pears were dribbled with a sweet, thick dressing, topped with imported brie and two pieces of crusty italian bread. YUM. I always get it to go and walk across the little street to the central park (er, that would be South Park) and eat it in the sun. Today I noticed an older man picking through the garbage, pulling up the uneaten portions of people's lunches. When he had a few, he sat on a park bench and ate it while he shared the bready bits with the numerous pigeons. Made me a little sad, as I feel it a little undignified. I couldn't help but watch, and he didn't seem to upset by it. He was well-dressed, too, so I wonder if he was just trying to save money (my grandmother's been known to "save" sugar packets from restaurants . . . older people sometimes have odd ideas). When I left, later, I smiled at him and he said, in a loud voice, "Hullo there, lady!".
People have been calling me "lady" alot lately.

The pigeons are in heat. I love watching the males puff up and strut around behind the hens, trying to mount them while they peck for crumbs. There was this fetching little hen with a white tuft on her head who gave this look that I swear said, "Let me eat, dammit".
I know, I'm weird . . .

After I ate I went over to the swings and swung like I used to when I was a little girl. I used to be *good* at swinging; I know how to pump my legs and get *really* high. My hips are much wider these days, and I make the set creak a bit, but I luckily found a swing that was high enough. I leaned waaaay back and let the tree tops rush past as my hair dusted the sand. Aaahhhh. To be 4 years old again!

Totally different news:
The authors for Maiden Voyage have been conversing with each other via email, and it's been *so* much fun! We've already started to exchange ideas, and the group is a fine bunch, to be sure. I've already started fantasizing about creating an "online" writer's group; maybe we can put together our own anthologies and sell them as a group. I'm already mentally scheduling our North American and European tours!!
Ahhh, I love living in my head some days . . .
Wednesday, April 15, 1998
So, this weekend:
Saturday David and I went over to the "House" where Mary Anne, Ian, El, and Cliff live. They had what they called a "Weed and Feed" party, where they handed out garden gloves and had us do yard work in exchange for yummy food (as much as we could scarf down). I know you won't believe this, but I found it very satisfying. We pulled/clipped TONS of vines, turned over the dirt in several flower beds (ground was soft - lots of rain this winter) AND in the walled vegetable garden. The yard is terraced, and there are stone walls and stone lined flower beds, rose trellis, a gazebo, brick patios/walks . . . it was fun to "discover" them by trimming back vines and vines. I have pictures, I'll send them. I even found a wooden gate in the back wall that the residents of the house didn't even know was there (or had forgotten). There was so much work (did I mention that when I got there the women were in the garden and the men - Ian and Cliff- were still in their bathrobes?) that the 6 of us only turned gardens and trimmed up - no time to plant anything! This house was built as a dream house and has 4 bedrooms - Ian and El share the large basement one, so they even have a guest room! All arches and SW architecture . . . I *love* this house!

After working so hard all day, 8 of us (Carol, Jody, Ian, El, Sherman, David, Me and Mary Anne) went hottubbing in Albany. They have this room w/out a ceiling, so you can look at the stars while you soak. There was just enough room for all of us. It's a CA phenomenon- social hottubbing. Very fun, though, and a nice thing to do when you're too tired to go dancing.

Sunday was a High Tea at Thida's house, but I had a terrible headache and was terribly tired from Sat. David took me grocery shopping (I only had cereal at home) and I hung out with my new roomies. They thought I was a nice Indiana girl, and here I am writing erotica! They're both UC Berkeley students; Sharon is in photojournalism and Jorge is a soc/psych major. I like them alot. We're sadly lacking kitchen supplies, and I cringe every time I buy something I know I already have at home!

My phone still isn't working. Ian was supposed to fix it last Thursday, but he didn't get home until 11:30, so we rescheduled until Monday, but then he was really sick, so now he's coming over tonight! I hope he can fix it; he's really good with these sorts of things, so I think he can!

I'm keeping a list of anthology submission deadlines and using them as assignments for myself. Nothing new, yet. I don't have time to write much, which is a pity.

I wrote my favorite college profs to tell them I sold a story. They're all very proud, of course. Michael even suggested that I might be able to get Franklin to buy a copy and even have a display case in their library!!! Can you imagine? New erotica writers - on display at Franklin!!! It was kind of him to say that.

Oh, dear. Yes, I need to spell check my web page, that's for sure. I guess I need to work more on that bio, too. I'm still waiting to see if Holly or Craig are going to send me text for their "pages". I especially want stuff on Craig's band.

My Mom sent me this note about my sister:


>Yesterday, I went to the Poetry Awards ceremony.  Holly won 2nd place!
>I was really proud...she won 45 dollars.  She'll have to  send you a
>copy of her bizaare poem.....it was a dream where her mother was using
>an exacto knife to carve a red ribbon into or onto her head!  I was
>proud!

I laughed out loud at this for quite some time!! What a bizarre dream! Congrats Holly! Franklin never gave us money for poetry, that's fer sure! I *do* want a copy! If you like, I'll throw it up on your page!

Filed my taxes today. Scary, dropping them in a mailbox. Of course, IN was not only the HARDEST to complete, but the only one that wanted money from ME!! CA and Federal gave me almost $300 back! Whoo-hoo!

Oh, I almost forgot. There's a good chance that I may get technical training soon! One of our managers here asked if I'd be interested, and my direct supervisors have been talking about it for a week or so now. Cross your fingers . . . that's $3 more an hour and MUCH nicer people on the phone.

Here's a hint: If anyone on the phone tells you to write a letter for a credit you think you deserve and tells you it's "policy", try calling again and getting a different rep. Sharon was bemoaning having to write a letter, and I told her to call back and be real nice about it and she got the credit, no prob. If, the second time, they STILL won't give it to you, quietly and politely insist on talking to a supervisor. *Don't* let them sign you up for a "callback". Refuse to get off the phone until you talk to a supervisor. Remain calm, explain the situation ad nauseum. Don't give up, keep repeating yourself calmly, explain over and over again. They should eventually give you the credit to get you off the phone.

Go check out some selected journals from my past
Go back to stories
Go home