Dear Diary - June 1998
My current email address is gryffyn@there.net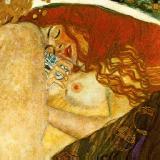 I've decided to keep an ongoing diary/journal online. This is for all my (wired) friends back in Indiana that I don't write enough, and for anyone who really wants to get to know me better. If you're not sure who I'm talking about here, you may find more info under Who's who.
As with the "selected" journal, I'm not putting up anything overly personal up here, so quit skimming for the juicy bits and check out my erotic poetry instead.
Monday, June 1, 1998
Some poetry from the past week or so:

Isabelle Allende Blues

I can't bear this sadness
I know now
Why the rain cries down
Skies shaking like sobs
A couple speaks
in Spanish, he sits
shoulders dejected
as she stand near
leaning into him
speaking softly
comforting, discussing
their desperate situation.
Ealier I'd told them
they couldn't afford
a nice rental. Not
in a safe area, not
somewhere nice.
It's my job
homefinder
newsbreaker.
Winds wail
I look away,
try to read.
Oh, Isabelle Allende
your vibrant prose
underscores
the pain you
bring to life on your
pages. I can't stand
your compassionate
illustrations of sorrow.
That last chapter read
like a poem on murder
recited in the quiet voice
of the stunned mother.
So sad my heart breaks
quietly, snapping with a thud
somewhere inside.
I give a quarter to an old man
and I watch him walk away
leaning heavily on his cane.
The rain weeps down
a tear-stained wall
between worlds.


Heather Shaw
May 29 & 30, 1998
Thursday, June 4, 1998
It's about 1:20am, and I'm typing away, trying not wake David, the crashed. I know there's a lot to read here, and I'm wondering if any of you (other than Mom) are going to make it even this far. Maybe. I just finally (maybe) figured out the telnet thingie on this computer (ok, so Todd found it when he was poking around my Mac last night). After I write this, I'm going to try to upload ("put") the file to my website. Please let it work.

What's been going on? Well, work is boring, but since we have a new database that keeps crashing, it's at least busy. My company is so cool, as Allison took us all out last night (uh, that's Tuesday night), and bought us drinks. Then today I got a bonus for working through the mess. I think they gave alot of those, which is really nice. I didn't think the day in question was really *that* terrible.

Lordy, I just realized how tired I am. I feel like I should right more that's current, as all these earlier entries were out of my journal, but I suppose that's enough for now! 'Night.
4:40pm
This certainly does feel like another day! It was a stressful night of trying to sleep. Argh. My living situation just got confused, as I found out this Tuesday that a couple is moving in and they get my lovely room! Have I told you about my room? It's rather cold, yes, and the least private room in the house (bordered by the kitchen, dining room and bathroom), but its got its *own* toilet! I've have it decorated just so, and I Becky even gave me some Butterfly Plant clippings that already make a nice plant for the little room. I'll miss that convenience. Two more people. One bathroom with a sink, shower etc. *Sigh*

David is playing his electric guitar behind me while I write this. It's nice, he's got some really groovy tunes that kinda mellowly take their form as he plays them.

So, today I finally got a chest of drawers! Yippee! I couldn't get the one I had at Willow House down those warren-like stairs, so I've been sadly without for 6 months! I miss my nice set back in Indiana. I have so much nice *stuff* back in Indiana, it has become its own joke! Hey, this reminds me . . .
Tomorrow, ladies and gents, tomorrow marks ONE YEAR IN CALIFORNIA!!! (and in all BOLD for kickers). I found an old journal I'd written right before I came out and laughed myself silly. How different life turns out. Hrm, I should try to write a Reflection for tomorrow's entry.

What else? David and I found Juan's Place, which was recommended highly by Todd. Flour tortilla chips and loads, just loads of guacamole. I forgot to try the Wine Margarita. I enjoyed the *place* immensely. It's sorta dark but clean and cool inside, with cheap diner tables and chairs and an inviting bar you want to sit in all night, drinking and conversing and having a swell time, with yummy drinks and Graded: Greasy-but-Good food. Much the same caliber as Los Tapatios is in Greenwood, IN (of all places, but it's damn good as you Indy/Frankliners know), with just a bit too much more grease. There were only 3 tables occupied at 3pm on a Thursday, but there's a lot of tables. I imagine when it's busy it'd be crowded/loud. Guacamole was of an ubiquitous fair breed, lacking any real stand-out features, but tasty, nonetheless. With the amount of grease, I really couldn't see eating there too often, but the bar may be fun. I'll be back.

OK, I babble no longer. Jasmine is demanding dinner, 10 minutes late at 5:10pm. David calls her the staunch but greedy one and is complaining about this play by play description. Bye bye.
One Year in California (aka Friday, June 5, 1998)
A Reflection
You know, this reflection thingie almost didn't get written. In fact, it's probably *not* going to go up before June 5th is good and over, so perhaps I should include this reflection t contemplate a year and a day in California. More of a ring to it, no?

Here's one place where I really feel the public forum of this journal. The really introspective shit. When I read my journals from right before I came out here, it's amazing how much of that *didn't* happen. Downright amusing, if you know me well. I'd type it up here, but last night, when I cleaned my room, I think I packed it somewhere far, far away by mistake. Whoops.

But there's a good place to start. Last night, for the first time since I've moved to this coastal state, I unpacked. Yes, yes, I know those of you who know me well are now doubting the truth in that statement, but David will back me up on this: some major, rare, never-before-seen UNpacking was done yesterday evening in the room where I dwell. And, you know, this looks like a different room. No longer am I living in a sea of clothes/paper/books, but I can now WALK -in more than just a straight line- to many, many (*most*) areas of my room! I can put my watch and my barrette down on my dresser top, and not have to scan rubble for them in the morning.
Dressers, chests of drawers, whatever you'd like to call them . . . they're such an important part of one's furniture, don't you think? Especially to a clothes-hound such as myself. I had a walk-in closet back in Franklin (ask Kellie, the main reason I took the much smaller room in that apartment was because of that lovely walk-in) that Christine (who'd lived there before me) warned me: "That closet will break your heart when you leave, because you'll realize your wardrobe will never fit in one place again." I could hear the wisdom in her words, but could not heed their warning. That, and I left two exquisite wooden dressers (with doors that opened to one or two shelves - perfect for sweaters!) in my parents house back in Indy. Did I not warn you that it was a running joke? *sigh*

And when I moved out here, what did I bring? Clothes. I should have packed at least *two* of those suitcases full of kitchen supplies and other housewares. No, I brought clothing. I had plenty of outfits, but nothing really to cook with. Mom brought out a small suitcase full of kitchen essentials, (which were more or less "lost" [read: stolen] from the commune/co-op thingie I lived in at first) when she came to visit (there was an American Library Association conference in SF last summer).

Lordy! I've never told the story of the co-op here, have I? Whoah, what to tell, what to tell. You never know who's reading, and I could get a little, er, well, not nice.
Hrm, well, I moved into this huge, oh, 5 or so bedroom house, depending on how you counted rooms. Big old "farm house", though not what I saw in farms back in the Midwest. I guess it was the main house for a cherry orchard that used to take up that old neighborhood. It didn't have gas for the first 2 months I lived there. Anyhow, I moved in alone. And stayed in that scary old house, alone. Remember, I had just moved to the "big city" and was a little crime-consciuos/crazed at the time. There was one night that the electricity was off and the entire building was dark when I got home. I'll never forget creeping inside, through that big, dark, empty house . . . up near blind stairs into an unknown upstairs where I hoped to creep along until I came to my room (the farthest possible distance from the front door, of course, and right above it, which sucked once others moved in later). I grappled around until I located candles, then searched for a lighter, and finally got enough candles lit (and my bedroom door safely locked) that I could breathe normally. Hey, I was entirely alone and didn't know my neighbors, let alone the neighborhood/city/state. Freaky. Whoo, then there was the time later when my neighbors had a domestic squabble and one of them threw a mug at the glass door and shattered it, causing me to call the cops (it seriously sounded like the windows on *my* house breaking).
Later, when people moved in, it was worse, but here's where I can't tell as detailed a story as I'd like. Let's just say that my idea of communal living still maintains some sort of respect for material (gasp, choke!) things that allows them to stay where (and with whom) they belong while being shared. I finally put a lock on my door, about a month before I finally moved out.

Here's where I should just mention people. Holly came out with her BF at the time, Michael. They'd driven cross-country and had been camping/climbing mountains/making me jealous all summer. They were out for 2 weeks, and it was wonderful to have Holly around. I miss her.
Unfortunately, I was dating N. at the time. Too damn possessive. That's all I'll say about that.

Then, near the end of Faire, I met Ian. Ok, actually I had met him mid-July, at an after-faire pool party in Pittsburgh (CA). I was diving/swimming, but not having as good a time as I might, as I knew so few people there. One of the few I *did* knew asked me what was wrong, then threw his arm around me and announced to the entire pool, "Hey, everybody, this is Heather and she's not feeling very loved!" Suddenly I was swept away by this mass of smiling, laughing people all pressed up together (around me) and moving on its own. My feet were not even touching bottom. There was this tall, handsome guy about my age who seemed to take me under his wing (or on it, when he and I played Chicken against another pair). *That's* the first time I met Ian, which allowed me to stop in front of his Mom's booth at Northern and say, "Hey, we met at Pittsburgh . . . ". If it weren't for these few instances, I wouldn't know Mary Anne, David, hell, most of my friends out here. Ian has become a great comfort to me. His friendship and outlook are such fun, he can really brighten up my day sometimes. Handy too; he's fixed both my phone line and my electrical outlet recently.

I don't know how much more to say. Mary Anne introduced David and I at a dinner party back in October, but it wasn't until I came back from Christmas break that I realized not only could he talk but he was pretty damn intelligent as well. Both MA and David thought the same of me. I suppose none of us should put too much weight on first impressions.
Anyhow, David and I started dating in January. There's not really much else I feel like disclosing here about that. I put too much of the occasional daily tidbits up here as it is; you don't need my deep introspection too.

Writing. Yes, thanks to Mary Anne asking me to write her a story (and I wasn't at all sure that meant she would take it) in lieu of poetry for the Maiden Voyage Anthology, I am now convinced I can write. Mary Anne is still a great mentor/role model for me in this. Sure, I could have figured out how to send off a story and eventually, even how I should track it, but it's so much nicer to have a friend take your hand and say, "Here, this is how it's done." The business side of writing is the boring, hard part, I think. That and trying to write. Fiction, not just poetry. Hell, now that I'm writing fiction, poetry seems a lot trickier. Now I just need to steal some time to write . . .

Back to housing, I moved in with Todd and Peter for three months, subletting the Kidz room while they backpacked through Europe (lucky slugs). Their space was the attic, and I'm quite capable of WHACKing my head on that unusual beam *BAM* and that one too, yes . . .
Living with Todd was both very nice and somewhat annoying. Only annoying thing really, is that I don't love Todd's music the way Todd does. And he surrounds himself with it. Hell, I just don't generally like constant, loud music in my immediate surroundings. It was something I only discovered then.
But just living with my best friend was really nice. It's been a year since I've lived with Kellie, and I tell you, it's so good to have a real friend to come home to, talk to and hang out with when neither one of you has any pressing plans on a Thursday night. Having Todd around to talk to made California less foreign. Well, this is true of the whole year, but it was nice having him around more.
And living with Peter was interesting, too. I got to know him somewhat, which under any other circumstances probably would never have happened, as we are two *very* different people. Peter's something of a computer geek duke, or prince or something. Those are *my* adjectives, of course. Peter is a practicing curmudgeon. He never lies to spare your feelings, never lets you get away with a seriously bad joke, too flippant of a statement, etc. Very interesting, to pitch my personality against his. I had some long talks with Peter, the most memorable being his vision of the future involving the internet and the role it will take in our lives. His world is almost entirely online, with programs to download only your favorite programs. News brought to you by only the sources you choose. And ads fitted exactly to play on your personal taste. (I don't really remember if the ads thing is something Peter said or if I am extrapolating now. This is all from memory, though I suppose I could break out my old personal journals and see what in there.) Everyone's world is its own separate microcosm, selecting bits from the whole but never having to deal with parts of it that one doesn't want to see. (Yes, I am extrapolating now). We also had an interesting talk about gaming (something I sadly have not done much of at all) and the kinds of characters he liked to play. He once played a very charming, charismatic character who had so much power in his charisma that he took over everything. Not a character I can really see him even wanting to do, making this all the more fascinating. Which you all are, of course. Man, am I babbling! Sorry, kids.

Where was I going? Oh, reflection. So, here I am, a year in California. On my third house, my third job, my third boyfriend. Wow, three threes. If things were going better with 2 of those 3, then I'd take that as a good sign. Maybe I will anyway. I know, I'm probably not making sense any longer. I can sense it.
Ramble, ramble, ramble. Perhaps that sums it up best.
Saturday, June 6, 1998
In a dreamy, sorta out-there state tonight. David made chick-peas (Chana Masala) not as hot as he usually does (something about new green chilies) and it was way yummy. I can't really tell if it's because I can eat a lot of it without pain or not.

Before I chowed down I started to catch up on the What I'm reading now section of my page. I've actually read 3 books since the last one I logged here. Oh, well. Anyhow, the one I just finished is Isabelle Allende's Of Love and Shadows. (Yes, those both link to the same page).

I'm writing this on David's nice Power Macintosh 7100/66, Power PC, then I'm back to my house, where I almost don't dare write because who knows when I'll be able to open a file that size up next? I need more memory, argh! I can't complain too much, though. It was a totally donated computer.

Sweet dreams, my pretties.
Thursday, June 11, 1998
What have I been doing lately? Not much to speak of, which is kinda getting me down. I mean, I have my hand in here and there, but as far as going out and *doing* fun things, I've been on a dry spell, it seems. Oh, today I did a little something. David and I walked (down the hill) from his apartment to Lake Merritt. This is actually a rather pretty part of Oakland, with a few of those old Victorians with a long row of steep steps leading to their front doors. We kept craning our necks to see if there was a road behind them, or if the inhabitants really did have to carry all their furniture up those steps (and it looks like they did)! A far cry from Indiana, where it's as flat as bread without yeast (I suppose a quick bread doesn't need yeast . . . ). Anyway, the lake was pretty, and we watched the different fowl do their thang. There were (according to the sign), gulls, herons, terns, cranes and of course, geese, ducks, seagulls and pigeons. Not that I really was quite sure which was which. There was a lovely pair of huge white herons that met on an island in front of us. When they left, one took off and flew around the corner to another island, and the other followed after the first had completed its trip. Did they work that out ahead of time? "I'll met you on Duck Island in a few minutes, ok honey?" There were fishing birds that would circle around until they spotted food, then stall and dive straight down into the water. We sat on a bench near the water, which seemed to confuse the Pavlovian geese who kept waiting for us to feed them. We finally obtained one large, loud goose that effectively scared off the smaller birds looking for a free handout. Not that we had any food, so Big bird left after a bit.
The walk back up David's hill was put off by a short coffee shop run (Ah Roma!). I had a yummy garlic herb bagel and a strawberry smoothie, while David had coffee. Then the hike up the hill, which wasn't actually all that bad. It was a pretty day, and walking around let me look around these neighborhoods at a slower pace. There's some really nice residential neighborhoods just outside the shadow of downtown Oakland. And some nasty looking apartment buildings. Sorry, I'm just all sensitive about housing since I've been working at Homefinders.

That hike would have been a lot worse if I hadn't been swimming recently. Earlier this week, I finally got to that point in swimming where it no longer feels like I'm dragging a heavy weight behind me. I actually feel good while I swim now, as if I can feel all the good I'm doing for my body. I think this is my third week (2 or 3 times a week), which is sadly rather good for me. I just need to keep it up now. And, speaking of exercise, I also fully intend to start taking belly dancing classes weekly, as soon as I find a good place (in Berkeley? Oakland?) to take them. David even said he'd take me to them, which is very, very sweet of him. He can be a doll sometimes.

All of you that read Mary Anne's journal have already heard about the online erotica ezine that a bunch of us are working on. You can check out her June 4th journal for details on the naming contest if you like. Anyway, I'm the Poetry Editor and I'm co-writing a "How to", "Dear ___", sort of article with another writer. I'm excited about both projects, though I'm just hoping to be able to handle both!! I've got so many ideas that I want to try out . . .

Other than that, not much. I'm getting homesick, a bit. I'd love to spend some time with folk from Indiana. Hell, just being in Indiana for awhile would be such a nice break from the constant city around here. I got all teary today when I was telling David about how much I'd like to spend a weekend camping at a festival at Lothlorien. *sigh* I need to make more money to do that sort of thing, though. Damn.
Saturday, June 13, 1998
Ah, what a beautiful California day! Finally!! It's been so dreary lately, so gray, that my mood needed this hot weather lift. I know those of you in Indiana are swearing at the heat (if you have the energy to swear in that suffocating oven), and don't understand how nice it is to have a truly hot day for a change. It's a dry heat, out here, which is very different from the relentless humidity of Midwestern summers.

I've started giving my leftovers from lunch to the homeless people on the street. I never eat them, anyway (they rot in my frig, usually), and I don't get that odd, guilty feeling I get when I give change. These people are *hungry* . . . sitting on the street, asking for food or change or what have you. Working at Homefinders has really clued me into the housing situation out here. It's not surprising there are so many homeless; we must get 2 or 3 times as many subscribers (people looking for a place to live) as listings (available homes) every day! And then, the rents that this causes! North Berkeley's rents went up 15% this year already! A studio apartment in Berkeley goes for $650!! Argh! In Indiana, Kellie and I paid $350 total for our 2 bedroom apartment, in a Victorian House, with a wrap-around porch (and swing), 2 bay windows, built-in bookcase, 10 ft high ceilings . . . out here, it'd go for, hell, with the yard that size, probably $1300 at least. Here's another CA/IN comparison: homelessness. In Indiana, I really never gave it much thought outside of an abstract, "there are terrible things happening in the world". But to see these people everyday . . . it's so hard to pass them by without giving them anything because no matter how poor I am (and I am poor, especially right now), at that moment I realize that I'm lucky, that I have a lot, that there are many people in my life who will help me out long before I'd get to that point, and that's a blessing. But I really can't afford to make a difference, not as big a one as I want to. I want to actually pay attention to politics (and I *hate* politics) and figure out who's going to actually *do* something for these people and vote/campaign for them. But I'm overwhelmed by the activism in this area, and it seems that everyone out here is immune . . . so damn cynical and flooded with "do-gooders" that they only see it as a nuisance when people try to tell them about the horrors that go on. And there *are* so many extremists that I feel like ignoring them all. *sigh*
So, I give my lunch to people on the street. If someone is selling something I might like, I'll buy it. I've bought, in this past week or two: a acoustic guitar CD (ok, it was terrible) from a guy in the BART station, a pair of amber earrings (that was today on the BART, the girl was really cool with really beautiful aura/energy that made me happy when I left her finally), and a poem from a man in a monk's robe (w/jeans underneath) who called me "sister" and offered it to me for free. I paid the $0.25 and chose a secular poem (about butterflies). I like the idea of buying a poem on the street. I think more people should do that. I was very charmed.

Tomorrow, I fully intend to go to the poetry slam at Cafe du Nord, but I have to email Mary Anne and ask if it's erotic haiku night so I can be prepared. Tonight, I try to motivate David to *do* something fun. Wish me luck!
Wednesday, June17, 1998
Last night I happened upon one of those things that makes you really happy in a quiet way. I was walking to the BART station with Todd (who was sweet enough to walk me there from his apartment, where we'd been hanging out and catching up on each other's lives), and had just turned the corner from Milvia onto Allston, on the side of the street of the main postoffice in Berkeley. Coming towards us, weaving skillfully along the wide pavement between the stone steps and the mailboxes, was a tall, older-looking man on a skateboard. He had salt-and-pepper hair, a beard, and could have been a college prof, the way he was dressed (nice pants, long-sleeve shirt rolled up over his forearms). He looked like a fish deftly navigating upstream; his tall body leaned effortlessly as he steered the skateboard. After we'd passed him I whispered to Todd, "That vision makes me very happy." to which he agreed, saying he wanted to say something too, but was rather awed by the experience. Now, I ask you, where else but Berkeley, CA are you going to happen upon such a sight? Yes, we've also got monks selling poetry, girls selling handmade jewelry, all of Telegraph (where the city charges those street vendors to sell their handmade goods despite the tourist attraction it is for the city, despite the money, ambiance and fame it brings to that street). And, we've got homeless people in wheelchairs who have to use deserted doorways as bathrooms because there's nowhere else. All that you expect to see in Berkeley. But, somehow, my professor on wheels is something you *wouldn't* expect, but if you're going to see it, Berkeley is the place it will happen.

What else have I been up to? Well, I certainly didn't get David motivated enough to do anything Saturday night. He's promised we can do something fun and naturefull tomorrow (my day off). I can't WAIT to get out of the Bay Area for awhile!! Rrgh! It's just one big city for miles and miles and miles, I don't care how many names you give them. From Crockett down to San Jose, curving up through San Mateo through the City itself . . . it just don't stop (and yes, David, Mom, other proofreaders, I used "don't" instead of "doesn't" on purpose). But, wait, I was looking back, not forward. So, on Sunday, I went to the poetry slam, which most of you have already read about on MA's page. Oh, well. Yes, I won third in the Haiku Slam (tied for third, with Lydia) and won $10. I suppose I could put up my Haiku here, though most of these were written in a rush on Sunday, and a few were written at the Slam, since I didn't want to run out of Haiku and have to forfeit (I'm terribly competitive, as some of you know). Ok, here goes. As far as fiction vs. real life, all I have to say is *you* try to fit real life into 17 syllables!

Dragonflies hover
Floating over your aura
Under the hot sun

Terra-cotta pots
Do not protect my plants from
Mountain climbing snails

It's raining like tears
Thunder like recurring sobs
Shaking Earth's shoulders

You always leave me
10 dollars a dinner
7 dollar tip

I know your order
You like how I wait on you
Yet we never speak

Tonight our host is Charles
He once told me the sky was
Maxfield Parish Blue

Listen to me dear!
Everything I say today
Turns into Haiku!

First 5 syllables
Next use seven syllables
Then 5 syllables

Tonight we dance with
The daughters of Salome
Don't forget your veil

This shirt has never
been undone before, it slips
Right over my head.


But that is ok
Being undressed by you
Was far more thrilling

Tonight you're wearing
Existential Underwear
Time to make your Choice

You want to play cards?
But tonight you promised me
Wild Monkey Sex!

Last week was bliss but
So soon you love another
My sheets still smell of you

You call for comfort
For she is now closed to you
And I am always open

The following I suggest not reading if you're my mother.

Your mushroom cap slides
Like a plum velvet lipstick
I swallow you down.

You want to hear a
nother cock-sucking poem?
I'll just bet you do!

No! That is not the end of this journal entry! This is!
Thursday, June 18, 1998
I just came back from meeting David's friend, Fran. She's on the tail end of her 3-week vacation, and we picked her up at Jack London Square's Amtrack station. I was kinda nervous, as I haven't met many people from David's past, so I was rather silent at first. I hate it when I do that. But, Fran was really nice, and very down-to-earth, and once we were all relaxed and drinking our tea at David's I found her easy to talk/listen to. She had quite a few tales from her train trip out here, and it made me yearn to travel. I haven't seen the West, I've always flown out here, so hearing her talk about the Native American museums in the SouthWest gave me wanderlust. Oh well. Some day, some day. Anyway, I had a good time meeting Fran, and I hope I'll get a chance to chat with her more while she's out.

Earlier today, David and I went to Muir Woods. Ahhhhhhhhhhhhhh. I *so* needed to get the hell out the damn city. Just to look at nothing but green for a few hours was sheer bliss. The drive out over the Golden Gate was lovely (even if David did complain when I got us lost in the City -- he was indulging my request for more sight-seeing). I love the rolling hills, the shady lanes and the twisty roads of Marin. Then at the park I had my fresh air and dirt under my feet. The hike was a bit challenging, being mostly uphill (until we turned around and went back down). Even off the paved paths, in the middle of a Thursday, Muir Woods is a bit crowded, but oh well. Now, for my evil plan B: Take David Camping. Bwah-hah-ha!So, this weekend I meet David's sister and her husband. We're all having dinner Saturday, including Mary Anne and David's brother who lives in the South Bay. I'm just a little nervous. Sometimes I get so tongue-tied! Very frustrating; I need to be more of a social butterfly. *sigh*
Summer Solstice, 1998
Merrie Solstice, my pretties! It seems like I was just yesterday putting up my Beltane entry, and here we are again at another Pagan fertility holiday! And on Father's Day as well! Happy Father's day, Dad. Hell, Happy Father's day to all you fathers out there. Who do I know that's a father? Craig, Kris and Travis. Oh, Bacchus is by now, though I haven't seen him in so long. Well, if any of you are reading this, you should email me, or call or something. I miss you all. *sigh* I wish I could say something happy on this Solstice. Unfortunately, I've found myself in the midst of major life dissatisfaction, coupled with some major stress from a friend or two . . . well, today was just another emotional roller coaster. (I hesitate to vent this stuff too much up here, as I know it worries Mom . . . I'll survive, Mom, don't worry). I've been experiencing quite a bit of unfounded anger recently, and today, gods help me, it got itself a nice, new foundation. And it was finally starting to recede!! I know, I know, maybe two of you reading this can read between the lines, and it's probably not a good idea to put this much up here anyway. Let's just say some people are really pissing me off these days, and it's draining to seethe for so long. I really need some positive energy, but I'm feeling trapped in this area. Yes, Mom, I know I can always fly home to Indiana, but, really, I think I'd go nuts living in Indiana now. How ya gonna keep 'em down on the farm after they've seen Cali? What I really need to do is start by getting a better job, one that pays me what I'm worth (which is about twice what I'm making right now) and doesn't constantly depress me about the homeless situation out here. Then I can focus on *my* housing situation (yes, I'm still in my room, and I need to talk to Sharon and tell her I don't want to move in August . . . that or find a new place to live . . . ). After that . . . well, hell, that'd be a *great* start. From there, I think I could maybe take a rest, then deal with the rest of my life. But as of right now, not one thing is going my way.
I miss my sister.
Monday, June 29, 1998
Whew! Yesterday I got up at 4 am to go to a catering job up at Sears Point with Mary Anne and Elle. Considering I didn't get to sleep until after midnight the night before (despite my best efforts to "hurry up and sleep"), it was amazing I made it through the 12+ hour workday. We got there and nobody seemed to know where we were supposed to check in, which was very, very annoying.
Poor Mary Anne was whisked away to work in the suites rather early on, leaving me and Elle with an incompetent named Christine. Elle and I pretty much did most of the job (serving 150 or so VIPs their BBQ chicken and ribs). The beginning of the race was decorated with such testosterone-laden entertainments such as Leap Frog parachuters and the Star Spangled Banner that ended with three jets that buzzed very low directly over our heads (making us all duck and grab at our ears). The jets came back two more times, and actually, it was pretty cool, as I'd never really seen those kind of aircraft in flight (other than movies, of course, but then we've all seen incredible things in the movies).
I really enjoyed talking with Elle; I've been slowly getting to know her better (having known her technically since last fall) and I'm finding her to be a very cool person. It was way fun watching the autoparts salesmen look at her with surprised respect as she pored over their catalogs and explained to Mary Anne and I the difference between various tools (she being a theatre technician and all-around knowledgeable fix-it kind of person -- I believe she knows more than any man I've known well -- go Elle!). We could only really hold conversations until the race started (at 1 pm), then it was earplugs (we were mere yards away from turn 11 - the hairpin curve) and leaning in and shouting and "what??". Who thought it was a good idea to put a race track in a valley where the noise echoes off the hills? I found out I am definitely *not* a race fan, although this wasn't really surprising, as I lived in Indianapolis for 20 years and never once made it to the Indy 500. (Although I did decorate Mittens' cage as "the winner's circle" one year in 4-H and won the cage decorating contest [for color coordination] in the cat show . . . but I digress). I had to go clean the exhaust dirt off my contacts in the middle of the day, as they were blurry, and I felt deaf from the earplugs (which still only blocked out 50% of the noise) and blind and TIRED.
By 4 pm Elle and I had cleaned up most of our tent, and we decided to track down Mary Anne and see if we couldn't get the hell out of there before the race ended. And while we *did* track down Mary Anne, we were still forced to wait until the end of the race, and I stayed and helped clean the suites while Elle went back to sign us out. Just when Mary Anne and I were panicking over finding her again, she shows up (she moved the car closer, sweet thing). So, we hiked back to the car, signed Mary Anne out (stopping first to take a picture of us peeking bare-shouldered out from behind a giant champagne bottle), and drove the long way home through Vallejo.
We were incredibly tired, but extremely slap-happy, and had a good time conspiring against Ian and David and whomever else we might find once we got home. We noted individually and together the differing colors of blues and green in this area ("I once dated a boy with eyes that color"). We sang round songs, made plans to do this and that, and had a rather good time driving back. I love bonding after a long, hard day. I don't know but that I was simply very happy in that car, driving back with those two, occasionally glancing over at the incredible views of the bay on my right. We came back to the house and eventually all ended up on Elle's new Persian rug, Bellisima (I've never, ever seen a rug so gorgeous in my life) in a big, happy pile of friends (occasionally picking on Ian for no good reason, though if we needed one he went to the Gay Pride Parade while we worked for race fans). I'm so lucky. These are incredible people, and it hit me how fortunate I am to be so close to them. I keep mourning the friends I left back home, but I've found an equally close, cool, creative, clever and beautiful group out here. I'm so glad I stumbled upon them.