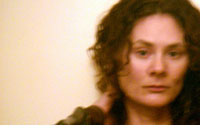 STATEMENT
I work from the premise of sensorial as thought. As visceral awareness develops so does the capacity not to create art but to allow Art to emerge. The conditions for this require an intimacy of place where a deep understanding that can only be achieved over time can occur; an intimate understanding of place and the body that engender connections that reach through the physical to subtle and perceived relational and energetic interactions and influences. It is only by way of knowing these energetic states and connections that I, or anyone can know if they are effecting art, controlling or directing it, or if Art is communicating itself as itself. Most recently my practice of an intimacy of place has lead to a new series by he same name.
PASSED WORK
For 3 years I had an ongoing relationship with The League of Burnt Children (LBC) with whom a series of underground performances manifested and curated themselves. Originally a queer literature club was the spring board for QAZ: Queer Autonomous Zone, inspired by Hakim Bey's Temporary Autonomous Zone. My final projects with LBC included N.I.P. (Not In Public) for LEAGUE OF BURNT CHILDREN presents: QAZ GOES UNDERGROUND; excerpts of ORGAN DONOR, a work co-created with Michael Velez at LEAGUE OF BURNT CHILDREN presents QAZ: Circling the Square, which we went on to present as a two evening event as part of the 2011 National Queer Arts Festival; SALOME TODAY - The SEVEN VEILS Masking Queer Sexual Power performed for League of Burnt Children [does] THE HOLY BIBLE, at (Q)UEER (A)UTONOMOUS (Z)ONE. I also worked in colaboration with and danced for Finley Coyl and Mary Franck in Permutae, a multimedia performance mapping the expanding technological-biological horizon; choreographed and co-directed with Honey McMoney for THEOFFCENTER 45x45: an experiment in collaboration; and developed a piece in collaboration with Jess Curtis for the 2010 National Queer Arts Festival: Haunted by Desire. Since 2009 I have choreographed and performed in eleven original works and several collaborative projects including with: Tyler Holmes, VainHein, Sancha, Krylon Frye, Bryan Dini, Laura Arrington, Jess Curtis Gravity, LUKU, Jorge Rodolfo Jr., Michael Velez, Kerstin Stuart and Ana Flecha.
BIO
While studying dance/theater and choreography at California State University at Chico Kyra accepted a scholarship to Nikolais - Louis Foundation for Dance in New York where she had the support of the academy to further her investigation of physical and performative potential through improvisation. Kyra's work is also influenced by her undergraduate work in site specificity and graduate studies in education and social justice. She holds a BFA from California College of the Arts in site specific installation under the training and mentorship of cultural activist and curator Lydia Matthews. Kyra also holds a graduate teaching certificate in Secondary Education-Art from San Francisco State University.
In the summer of 2009, after several careers including equestrian, ski instructor, public high school teacher, pricipal partner of a Web and interaction design firm, and working visual artist, Kyra found herself as one of the prime movers defining the events / actions / happenings that the Bay Area's dance/theater scene is known for.
Her ongoing technical dance training since reemerging in 2009 is with Frey Faust and Kira Kirsch in the Axis Syllabus; a precise bio-mechanical system of orienting oneself internally and externally from a respectful functional application of the body's structure in order to make optimal use of its architecture for the preparation, empowerment and longevity of the dancing body. Kyra's technical skill base combined with state and energetic work as they create ritual spaces and inform performance took a quantum leap in her work with the League of Burnt Children when they moved from a literary performance salon to direct action events. Kyra Rice's work continues to find home in gimmickless, brazen truth, an artist as vesel for Art to emerge into the anomaly of the human world.

by L. Parks