Dear Diary - November 1998
Mail is welcome.
gryffyn@there.net | index of journals | home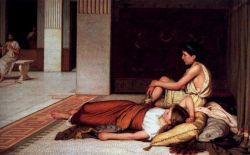 After the Dance
by John William Waterhouse
Friday, November 6, 1998
I love Fridays. Especially now that I work Monday thru Friday like most of the population and I have a normal weekend. I know, it shouldn't matter, as long as I have two days off in a row, but there was a stretch when my friends (ahem) kept throwing their parties on Saturday afternoons, which was a working day for me at Homefinders.
But I don't work at Homefinders anymore - whoo hoo!

Like the new look? I found a few hours to play around with the fonts and format. Let me know if it really doesn't sit well. I liked the candle, which had to go on black. Sorry about that.

Monday evening I took a belly dancing class at Snake's Kin Studio. The teacher, Lynette, seemed nice enough, and her studio had a really artsy, eclectic feel to it. She lives in a live/work space, and the dance floor (which is bordered on two sides by full mirrors) stretches under an A-frame type ceiling. She's got all sorts of stuff hanging around, baskets, scarves, tapestries, musical instruments etc. She even has a swing hanging from one of the beams. Oh, it's certainly my kind of environment, all full of colorful clutter, with a big, smooth wooden floor in the middle to dance on.
It felt so good to dance again after so long! I got my hips going without too much trouble, even if I did sweat a bit more than was necessary. She video taped us at the end of class, one by one. I was relieved to see that even if the finer details of my technique needed work, I still responded to the changes in the music better than most of the class. I'm such a ham. Put a camera in front of me and I just naturally turn on and perform. I could see that I was clenching my jaw, but I still had my arms curved nicely and hit the turn solidly. Oh, I'll stop.

Well, David is bothering me as he wants to run some errands before rush hour hits (and I can't really blame him). Tomorrow we're having dinner with Beth, his sister, and we have to pick up a few last items for David to cook with. Have I mentioned he's a fabulous cook? Ok, I'll stop procrastinating.
Monday, November 9, 1998
Whew! What a night last night! I've only 5 or so minutes to tell you about it, so:
Well, last night Beth, David's sister, called around 5pm to tell us that she could make it over for dinner (originally it had been planned for Saturday, but her day ran late). Beth is in town testing equipment used on high-end racing yachts. Anyhow, this was fine, and we both made a scramble to clean up and get ready, but I know we were both pleasantly surprised. I was especially relieved that I'd get to know Beth a little better before going home with David for Thanksgiving and meeting his whole family.

Anyhow, Beth arrives and dinner is going wonderfully when the phone rings. David answers it, and it turns out a friend of ours was in the emergency room at Highland Hospital and needed to be picked up. Since David's sister was visiting, I knew I would be called to duty, and I hastily finished my dinner and nobly forwent the Simpsons (new show and everything), to go pick up our friend.

Ack! Don't wanna be late for work! To be continued . . .

6:12pm - Ugh. You're lucky I'm not devoting this journal to complaining on how tediously boring my day job is! Where was I?

Ah, yes. Well, as David pointed out, I'm fully qualified to drive his car, and I journeyed forth to rescue our friend from Highland Hospital. After some consternation over parking on the hill (they call it Highland for a myriad of reasons, it seems, you'll see more later), I bravely parked David's little white car in the square, ominously empty of ambulances, emergency room parking lot.

I ended up going in thru the swinging doors (which are, of course, left open) and found myself in registration. Thinking I was sort of in the right place, I waited in line behind a man on a crutch, who gave me a strange look before hobbling off. I took a deep breath, "I'm here to pick up my friend, she called and said she's ready for discharge." I gave them her name and they looked worried, confused, and hurried down thru the security-number-pad guarded Emergency Room. There were two people on gurneys wheeled in from elsewhere in the hospital and they, too, disappeared behind the mysterious green doors. My friend was back there somewhere, and I wasn't at all sure I wanted to brave that hallway to fetch her out.

But I did. Eventually.

After a confusing few minutes, I was ushered part-way to the actual waiting room (where I should have come in), but I found myself sitting on a wheelchair and waiting for my nurse to come back to guide me when she rushed off for another emergency. Well, I didn't expect to be first priority, but she could have told me that the waiting room was right through the next doorway!

Yes, finally I was brought back to room #7, where she lay. That was near the end of the most gruesome, terrifying hallway I think I've ever had the tenacity?? to walk down. The green doors that I mentioned earlier opened both in and out, and stopped right before the first gurney. On this gurney a man lay strapped down with heavy leather wrist and ankle cuffs (standard on all gurneys, I suppose, but it was scary how many in the hallway had them). He was jerking at these bonds not so much as an attempt to get free as that's what parts of his body moved as he spasmed. I had heard the doctors, nurses and orderlies discussing this one when I first came in. "He's been talking non-stop!" "Yeah, he's been talking like that all day long." "Did you give him [insert forgotten drug name here]?" "Yeah, but he seemed to just talk more." This man was still talking as I passed him (I'll admit I was on the lookout for this talking man), but to be honest, it sounded disappointingly similar to the chatterers one sometimes meets in the BART lobbies and trains, or many places in Berkeley. Frightening to see him strapped down and obviously not feeling too well.

The next was actually very similar, though this man was so contorted his bonds were loosened to accommodate the way he lay. He jerked less, and muttered privately to himself.

Not to sound crass, but it felt more like a loony bin than an emergency room.

They had given my friend an IV, as she had thrown up when she had sat up to go before. They also gave her anti-nausea and pain pills which knocked her out. Before she lost consciousness, I told her the basic plot/story of the book I'd just read, _Rose Daughter_, which is the latest retelling of Beauty and the Beast (my favorite fairy tale) by Robin McKinley (and is now my favorite book ever). I felt kinda silly, and wondered if anyone else listening to me thought me mad. I felt like an idiot when I came to the part about Beauty's mother dying from breaking her neck while jumping on her horse. Mentioning death in such a place! " . . . and Beauty's mother died, because this was the 16th century and they didn't have the medical care we do today." Oh, yes, I can be really silly without meaning to sometimes.

It was obvious she wasn't going anywhere for quite some time, but the nurse wouldn't let me leave, even though I promised we were close by and would come to pick her up as soon as she was ready. They were overcrowded and very busy. I think she would have sent the IV home with me if she could, just to speed things up.

The doctor/patient interviews I overheard (oh, stop it, you'd listen too - and I'd forgotten my book!) all ended up dwelling on what drugs the person had taken when. The man in the next, uh, curtained section of the room we were in had shooting pains in both his legs, and couldn't move them much. The drug interview focused on cocaine, and I lost the rest of the list. They closed off that section entirely and he made sharp noises of pain. I was sitting maybe 2 yards from where he lay.

There was a young man with a goatee that had walked in right before I did from the same parking lot. He was 21 years old. The doctor who interviewed him was a little older than I, in her late twenties. Most of the doctors were young, which made me think that this was a starting job - don't most doctors have to put in residency at a hospital? Anyhow, she had a nice face, and smooth brown hair clipped up hurriedly. She was kind but efficient, not embarrassing him too much by worrying over him. "Any drugs?" "Well, yeah . . . " "Cocaine, heroin?" "Not today. I smoke marijuana." She brushed this off, "that's ok. When did you last do heroin?" She asked him questions about life in general. He had tried to kill himself by taking some sort of pill. He said his mother had seen him do it, but it was unclear as to whether she'd realized what he was doing or not. Anyhow, during the doctor's surface examination, she asked, "What this tattoo? Jail? or a gang?" "Yeah, gang." his eyes were worried, and he swallowed the last word, as if he were afraid of it. I wondered if his attempt at suicide was from depression or fear of another kind of death. She gave him a measured look and told him to take off his shoes and socks, so she could test his reflexes. He raised his bound arms up as far as he could and she patted him and said, "You can reach if you bend up your knees. If you're still having trouble, I'll come back and help you." It was a hard thing to see, this kid bending up his skinny leg into a sharp triangle and pulling at his shoelaces with the almost steady fingers of only one hand. He looked around while he did it, very self-conscious of how he looked. But, he kept his head up, and did not cry, though I thought he might at first. It was going to be a slow process; I looked away.

David later commented that a writer is like a vulture for material. Well, ok. And though I missed it sorely, I was glad I'd forgotten my journal for once. I couldn't have used it anyway; I could only watch through averted eyes.

I asked to use the phone, so I could summon David for moral support after his dinner with Beth was over. I waited for a long time while a short woman with a mask, hospital gown, and tennis shoes (she was standing on the heels, so they looked like slippers) talked in short, tense bursts and long silences. I don't think she had much to say, nor was her topic more than surface chit-chat, but I didn't have the heart to scare her off the phone. A familiar voice in that scary place may have been all she had right then.

As I stood, they rolled up a man in red hospital pajamas who was alert and steady, but was tightly tied down. He was tall, and his hair was neatly done into corn-rows. I wondered if he might be a convict, from his manner and the bright red uniform/sleepwear. He tried to get my attention, but I was so busy averting my gaze that it took me a minute to catch his restrained gesture. "Do you have a cigarette . . . or - do you smoke?" "Naw, I don't smoke, sorry." I answered and smiled as I always do when I'm trying to come across as natural and friendly. He nodded and lay back, asking an orderly nearby for a pillow. Which they were out of.

I finally found a phone at the other end of the hall, right across from the duo of talking, tied-down men. I called David, and found that Beth had already goaded him into joining me (thanks, Beth!) and she would drop him off soon. I was giving him the lowdown on our friend's condition, when a doctor pushing a gurney out of the surgery room next to me snapped, "You're in the way! That phone's for short calls ONLY!" "I know. I'm almost off. Gotta go, David, see you soon. Bye." Geesh. I was on that phone maybe 2 minutes total, and that was all I was planning on using it. I figured the one the lady had been on was not as much in the way, which is why she was still on it as I passed.

David arrived with nurses announcing his arrival for him. "There's a man named David asking questions in the lobby, and I can't answer them. Maybe you can, or, where's that nurse?" She was visibly a bit flustered, and I wondered what sort of hell David gave her to gain his entrance so quickly. We still had to hunt down the "real" nurse, and get permission for more than one person at her bedside.

Ok, break 2. Stay tuned for the continuing (for a bit longer) saga of LAST NIGHT - bwaah ha . . . . oh, bye.
Friday The Thirteenth!!! (November, 1998)
What is it about superstitions like this one, huh? I must admit, I've been paranoid all day long about it, for no good reason. Bad things kept *trying* to happen, but they'd get oddly corrected before it got too bad. Example: I missed the Emery-go-round by seconds this morning. The bus driver almost ran me over as she pulled away, shaking her head at me. Damn! As I was walked through the copious construction at MacArthur BART to get to the payphone, a second bus zoomed past, and, since no one was waiting in the right spot, zoomed off again. Urgh! I was half an hour late to work. But when I got off the elevator, Amanda and Melodi whisked me off to the office I'm using, telling me, "Don't worry, we covered you. You were here on time." And they had, too! I was duly impressed, and a little bewildered, as I'd braced for the worst. They're a great couple of gals.

My job is sooo boring. (How boring is it?) My job is soo boring that yesterday, just to do something *different* for a change, I donated blood for the first time. Yes, it was noble, but I'll get to that later. I *hate* needles, no, I LOATHE needles, IVs, any of it. Now, I no longer kick and scream and throw a fit to avoid shots (I vaguely remember doing this, yes Mom?); I learned to use breathing exercises I learned in Acting class to get me through. Still, it's always something I avoid whenever possible, and I've never had the nerve to donate blood before.

A quick step-by-step: They test your blood first by pricking your ear ("It hurts much less than your finger, believe me!") and making sure it sinks in this blue solution ("Yup, has enough iron."). Then they take you behind a screen and ask you personal questions about your sex life ("In the past 12 months, have you had sex with a man who has had sex with other men?" I wanted to ask, "Um, how exactly are *you* defining sex, here?" I dunno, but it seems like a vague, fear-filled question to me. What about oral sex? Are they assuming all homosexual sex involves anal? Or are they just assuming all gay men have been exposed to AIDS?). Then they have you stretch out on a gurney (whee!) and wash your arm for 30 seconds with Iodine. Then they punch a needle into you and have you squeeze this ball while your blood "flows" (drains) into a plastic bag. Errrguh. It gives me the willies talking about it.

As I somewhat expected, I was terribly light-headed after this experience. I had to lie there for 30 minutes or so, and I sipped juice and cookies after that with no feeling of being restored. But, at least I had done this good thing, right? Even though I found it an incredibly intimate experience (letting someone you don't know drain off some of your vital fluid, thus making you light headed and weak for the rest of the day), I couldn't help but think of the emergency room earlier this week and of how this could help someone out. Still, I don't know when I'll get up the nerve to do it again. I couldn't help feeling violated.
Moonday, November 16, 1998
Ugh. Monday. Why does Monday have to start the week? I rather like the Moon, and I rather dislike starting a new work week. Especially when my job is as boring as this one. I get so bored, I think I'll go nuts sometimes, and the work is tedious, monotonous and constant. I'm damaging my right (writing) hand, as all I do is copy information (by hand) from files onto paper. Ugh. And when I get the 2000 files done? Ahhhh, then I get to type them into their system. I get to write it all over again. ...Ok, I'm not gonna cry here in front of you all, I'm just not. I shall just repeat to myself, over and over:
"There are worse jobs; it pays well"
"There are worse jobs; it pays well"
And I was going to talk about the moon! Well, the new moon is on Thursday, so I really haven't been seeing her lately. Not that you often see the night sky around here in the haze/fog/smog/I doan' wanna think about it.
This new book I'm reading, In the Land of Winter by Richard Grant, has gotten me thinking about my pagan roots. Not that I was raised pagan, no, I was shuttled off to Presbyterian Sunday School for several years when I was young. But my folks never really fussed when we didn't want to keep going. I secretly feel that this was something they thought they should expose us to, or at least try to persuade us in. When Holly and I got into paganism a few years back, my parents were incredibly cool about it. My mother even used "thank gods" in her latest email to me, probably to tease me about using it, but she's using the phrase nonetheless. I can only sorta do the pagan swear thing, anyway, as I picked up the Midwestern Sin of Using the Lord's Name in Vain. (Or is it Vane? Oh, dear. David?) Jesus Christ! and Goddammit are two of my favorites.
Ack! I'm putting a paragraph in because I was off on another damn tangent. ANYhow, the book, In the Land of Winter has a main character, Pippa, who lives with her elderly aunt and her 10-yr-old daughter (maiden, mother, crone, uh, not in that order) and is what seems to be a solitary practitioner of magic. Wicca? The one ritual described has a nice, loose feel to it, which reminds me of the freedom of Lothlorien as I knew it. I don't think I like the city much. I miss trees. I miss wild areas, open areas, quiet areas. Urf! I'm so homesick these days, guys. I miss my family so much. I know, I'm going home in 32 days, but the closer the date gets, the more I miss them. This is the first time in my life that I've been away from home for a whole year. Oh, I miss my sister something fierce. I think Holly's my soulmate (or one of them), and I'm just not used to being away from her like this for so long. And so far away, too! Even when she went to school in Chicago, I still saw her at least every three months.
Ok, fit over. Back to my regularly scheduled journal entry:
Mary Anne's been lamenting about her latest story in her journal lately. I know how she feels. Did I tell you I *finally* wrote a new story? Yup. Got the whole draft done, and was pleased to get that much done. It got me out of bed on numerous occasions, begging for bits to be written down. It finally kept me up all night one Wednesday, and by Thursday afternoon I felt as if I'd just been thrown clear of the mauling arms of a beast. Thing is, it still needs some work. Some major work, perhaps. But every time I sit down to work on this thing, I only get 3 versions of the same tale, over and over. And I have no idea which ones to use, or how to place them all together. So, I untangle the hairy limbs and leave the story. For awhile. Longer.
Friday, November 20, 1998
Thought I'd drop a "quick" line or two in my journal while I'm pondering over casual day wear for work today (jeans that are nice enough to wear on Fridays are less comfortable than, say, a long skirt).

Tomorrow, I'm probably going to be recording (or helping to record) Byron's poetry for Clean Sheets. I'm hoping we won't use it until December, though, because neither Mary Anne nor I will be around next week to help if anything goes wrong. While I'm thinking about this, can anyone out there give me more info on Real Audio vs. Sound Wave files? Ian's got the equipment to record it as Real Audio, but then everyone would have to download a (free) bit o' software to listen. But it'll sound better. Any opinions?

Next week I'm flying to New York with David to meet his family at their traditional Thanksgiving feast. Very exciting, to say the least. I can't wait to *go* somewhere; I desperately need a vacation. Nervous? Oh, you betcha. I know his family will be very nice, but that doesn't really help the fact that I'm meeting my boyfriend's parents as an adult. You might think I'm being terribly silly. Perhaps. But, well, I'm not all that old, and I've never had a serious boyfriend like this before and . . . well, the result is that I feel like a kid playing dress-up or make-believe.

Must run! Have a lovely day. The sun is out (here), go out and frolic for me!
Saturday, November 21, 1998
Well, technically, it *is* Satyr's day already. David always says if you haven't slept yet, it's still the day you just finished. I don't *really* care, one way or the other; I simply use the one which suits my purposes.

Tonight (ok, last night - I asked for it, I know), Ian and I went out, had dinner at my favorite (pricey!) Italian restaurant (Fontino's, in Berkeley - Mom, you and I ate there on our walk) and then went swing dancing at Ashkenaz. The portions at dinner were too small, but they gave you warm bread and flavored garlic oil to fill you up. Yummy food. The problem with Spumoni is that you either finish it or leave it; no doggie bags for ice cream! The dancing afterwards ...?

Fun. I wore all black (I have a nice black 30's dress with a tight row of rhinestone buttons down the front and crocheted cap sleeves), and did my hair back in a nice 40's 'do. We haven't danced together in months (May?) and I had to ask this lovely blonde to show me the swing-out again (which I then picked up, thank goodness). Ian and I only managed about, oh, 5 dances or so? By the end, we were ok I thought. I like spinning, and I always go for double turns and it seems Ian's never ready for more than one, but oh well. I'm sure if we danced more often we'd be alot smoother. The blonde had the "characteristics" of the dance down: she (ok, yeah, and her partner, who wasn't nearly as cute as she) would crouch down, hang her free hand just so, move her shoulders with her feet, kick with attitude etc. It's a really fun dance, Lindy Hop, and it takes this cool, fun attitude to pull it off well, I think. Anyhow, I concentrated on flying where Ian swung me, throwing in some attitude, and signaling when he was about to back into someone (often - it was a crowded dance floor). And I tried not to look down, which just screams beginner. As we were leaving (too soon! - Ian wasn't feeling well, poor boy), a girl smoking outside (no smoking in bars in Berkeley - yay) commented, "You two were really good", to which I gave a surprised, "Oh, wow, thank you." I thought we looked clumsy, but I suppose not. Nice of her.

Ugh. I have TOO MUCH to do this weekend! And I'm tired, so tired. So, good night. Sweet dreams or interesting dreams at least. May they not wake you, at any rate (I keep getting ideas for stories in the middle of the night and have to fire up the computer to write - ugh!). 'Nite.
Previous month | Next Month
September98 | August98 | July98 | June98 | May98 | April98
Index of journals
Home