WHAT'S RIGHT ABOUT THE NIGHTHAWK S

As a do-everything motorcycle, the Nighthawk S rocks. Fast, comfortable, practical, and very good looking, it's a damn good second-best at most things you do with a bike on pavement. (In the dirt is another matter, but it's still better than most large-displacement street bikes for gravel and dirt roads. Don't ask how I know.)

As a sportbike, it cooks. Fifteen years after production ended, the state of the art has come a long way, but in real world fast riding the Nighthawk S can still move. Strong brakes, reasonable peak power, and that squirrelly 16 inch front wheel make for a fast ride. Soft (but still harsh) suspension keeps your attention focused. Of course, taking this old codger to 10,000 RPM, where the real power is found, isn't the very smartest thing to do. And good tires (I often use a ME33 Comp K front and a MT66 Route rear) help a lot.

As a transportation vehicle, it's great. Old and cheap, with few valuable plastic parts to steal, it sits well on a big city street. The flat seat and under-seat rails make cargo-carrying fairly easy. I have a pair of custom hard saddlebags mounted which are a dream come true for carrying and storing stuff. (My first hard bags, they say after you try 'em you can't go back.) Low RPM power could certainly be better though!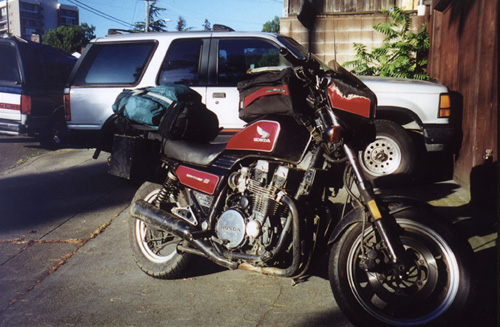 As a sport-touring mount, it works as well. The only major problem is the lack of a windshield. After a couple of 2500+ mile trips, I could sure go for one of those. Oh well, I guess we can't have everything. Pray for twisties.

If you like to drop your bike, or crash it, the Nighthawk S slides real good. The seat and gas tank are out of harm's way, and the quarter-fairing usually comes out okay too. Expect to replace a lever and/or mirror, both very cheap, and get some black paint for the pipe/engine/brake caliper/grab rail/handlebar endcap abrasion. Unless you hit hard enough to break pieces off of the engine cases, which has happened to mine a couple of times. That sucks. But usually, things come out okay. To my mind this is one of the great advantages of this bike, and others from the 70's and 80's. Modern bikes are covered in expensive, poorly placed plastic, even the current Nighthawk 750 having a moderately whale-like tail section that invites damage and makes bungee cords less practical.

The shaft drive and hydraulic valve lash adjusters are zero-maintenance, and work well. I find it odd that these items have all but disapeared from modern sporting standards. (BMW excepted, they still put a lot of emphasis on practical features.) And of course it has a centerstand, well duh!

And if you ask me, it looks divine, just like a motorcycle should. Not unlike a Monster 750, ZR-7, or SV650 (unfaired), it's all business, naked and pointed straight ahead. Perky, too.

For those interested in what the magazines had to say about this bike when it was released, contact Ian Smith Information . For less than $20 you can read almost forty pages of reviews, etc. (Hint: They liked it.) Great stuff from a great company.
Home | What's Right | My Bike | Common Problems | This Bike's Problems
Gallery | More Photos | Links | Cargo Carrying | After The Crash | Nighthawk ST

Philosophy | Modern Bike Rant