Engine, Alternator mounts for Flywheel Drive VW Aeroengines
Some of us believe the proper way to mount the prop to a VW engine is via the Flywheel end of the engine.
Great Plains Aircraft Supply
has some around to this way of thinking, and now supplies pieces to make this happen. They have not, as yet, posted very good pictures of the stuff, so I'm stepping in to give out some clues. R.S. Hoover, in the Chuggers and AirVW Yahoo groups, has posted some pictures of the flywheel end piece, and the spool prop extension. On my Hummel Ultracruiser Plus variant, I thought I would be able to use a belt drive to a Kubota/John Deere PM alternator, so I bought one of Steve Bennet's combined alternator/motor mounts.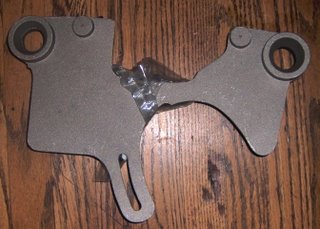 This side faces the engine. Those little bosses at the top of the image get drilled to clear 8mm fasteners that tap into the existing bosses on the case itelf. The two big holes service conical shock mount bushings, with interface with a bed-type engine mount.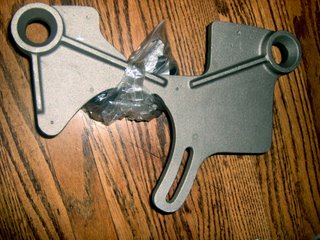 Similarly, this face gets drilled for the pivot point for the alternator, and another fastener to the case. The holes are nicely located, with a cast in "Center Punch".
Unfortunately, this part will NOT work on my fuselage, as the
extensions of the forward fuselage that form form the the engine mounts on this design
don't leave enough width for this dealy. Steve took it back with no questions.
This piece was designed to be part of the
Great Plains Rear Drive System
, which involves an outboard thrust/radial bearing, which the Flywheel Drive setup DOES NOT use. The casting Steve devised for this setup has similar conical bushing bosses cast in. Here is a picture of such an installation on Hal Hadaller's airplane: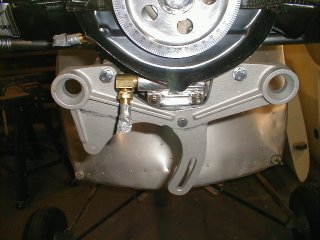 The mount mounted. Note the tight clearance to the oil pump outlet.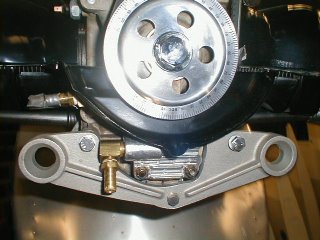 Hal ended up with the alternator in a different place, so he cut off the arm for adjusting it from the mount.
Here's the whole RDS deal installed on the firewall: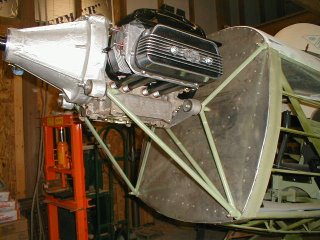 Compare/Contrast to this Flywheel Drive setup on a Sonerai:
R.S. Hoover is one advocate of Flywheel drive, having flown several planes with it, and Chad Stenson is another, with airplanes flying using it. You can find R.S. Hoover via various Yahoo groups, and Chad via
Sonerai.Net
. I haven't flown this hardware, but I'm building such an engine right now.